Online Master of Engineering graduate spotlight: Anissa Akrout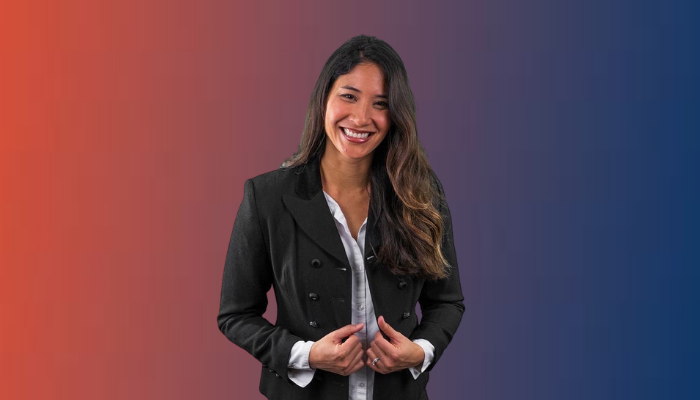 Anissa Akrout (BIOE '22) recently completed her online Master of Engineering in Bioengineering degree and sat down with the bioengineering team to share her path to Illinois and her plans for the future.
Can you tell us a bit about your background and path to bioengineering?
I got my bachelor of science degree in electrical engineering from Boston University in 2006 and worked in the high-tech industry for around six years. Then I decided I wanted to work in the medical field because at the time, I was a triathlete, and I was fascinated by kinesiology. So I went and got my doctorate in physical therapy and graduated in 2015. I practiced as a PT for about five years and finally decided I missed engineering and wanted to combine engineering and medicine. That's what led me to pursue biomedical engineering.
Why did you choose the online M.Eng. program and where are you based?
I chose the online M.Eng program because I had done some research and found that UIUC was rated to have one of the best online master's programs. I was based in Austin, Texas and transitioned from being a full-time PT to part-time PT so that I could concurrently work on my master's. I'm from France and decided to move to France for one year in October 2020, which was about 2.5 months into the program. I completed the online master's program in France in one year. Recently, I was offered a job at PSYONIC to be the clinical support specialist and moved up here about a month ago.
How did you hear about our program?
I Googled top-rated online biomedical engineering master's programs!
What are some of your favorite classes and what skills have you gained?
This is a tough question because I truly enjoyed all my classes. Mainly, all the professors have been excellent and I've thoroughly enjoyed each of their teaching styles. I'd say my favorite classes were principles of bioinstrumentation taught by Dr. Dobrucki, surgical technologies taught by Dr. Nie, and the capstone course taught by Dr. Best. With bioinstrumentation and surgical technologies, I gained theoretical knowledge and understanding of many different types of medical systems and innovations. With the capstone course, I was able to utilize my theoretical knowledge and put it into action, but most importantly, it was a fantastic experience collaborating with a team and taking on a leadership role.
How has your experience been working on the Capstone Design project?
As a master's student [on the project team], I was in charge of managing the team and establishing rapport with our project sponsors who were students from the Carle Illinois College of Medicine. We worked on developing a pain management app to help individuals communicate more easily with their providers about their chronic pain.
Have you been able to build relationships with other students in the online program? How is it working in a remote team for your capstone?
Yes, I have and keep in touch with them to this day. Some, I have just connected with on LinkedIn.
What is your favorite part about the online M.Eng. program?
The flexibility and feasibility of the program is unbeatable. In addition, the quality of instruction surpassed my expectations.
How do you envision the Online M.Eng. program to help in the next step of your career? What are your career aspirations?
The program has provided me with an assortment of skills to make me a better well-rounded professional. It has allowed me to find my dream job working at PSYONIC, following my aspirations to integrate my medical and engineering backgrounds.