124,000
Square feet of state-of-the-art facilities
Following a $55 million renovation in 2018, the new Everitt Laboratory now serves as the centralized hub for the department of bioengineering where we are training the next generation of healthcare innovators and leaders, conducting research to help improve the human condition, and serving as the conduit for multidisciplinary research collaborations that promise to transform medicine.
Spaces in Everitt Lab
More than 1,200 students and faculty from engineering and medicine across campus learn, teach or work in Everitt Lab on any given day.
Jump Simulation Center: Made possible by Jump Trading, the Jump Simulation Center combines medical equipment with the latest technology to enhance student training in an operating room, intensive care unit, and hospital/clinic patient room.
Quantitative Physiology Lab: In this lab, students conduct hands-on experiments to learn how the neural, cardiovascular, respiratory and muscular systems work. Sensors and software help teach students to analyze physiological signals and understand how and why they change under different conditions.
Senior Design Lab: In an open-concept space, students design, build and test prototypes at improving health and medicine. During the one-year capstone Senior Design course, students work in teams supervised by faculty along with medical or industry partners on such projects as a device that simulates catheter placement in the radial artery, developing sensory feedback in a prosthetic hand, and a redesigned cochlear implant.
Cell and Tissue Engineering Lab:Students use the lab to learn the principles of cell biology inherent in tissue engineering design through hands-on experiences manipulating cells from various tissue types and performing quantitative analyses.
Biomedical Instrumentation Lab: Students test the principles, design and applications of medical instrumentation while gaining hands-on circuit-building and signal-analysis skills. They also complete a project in which they observe and interview physicians and researchers who use instrumentation in their daily work.
Enhanced instructional classrooms: Three active learning classrooms and four seminar-style classrooms include instructional technology and are designed to facilitate collaboration and discussion.
Research labs and offices: Everitt Lab includes office and lab space for 20 Bioengineering faculty who conduct research in molecular, cellular and tissue engineering; synthetic bioengineering; computational and systems biology; bioimaging; and bio-micro and nanotechnology. The building also houses offices for department administration and staff for undergraduate and graduate programs.
Multi-use spaces:

ATRIUM - a gathering place for informal student and faculty interactions and events
AUDITORIUM - 115 seats; equipped with instructional technology
CONFERENCE ROOMS - seven rooms throughout the building for meetings and collaborations.
For more details on Everitt Lab, download this booklet.
"My favorite university memory was walking into Everitt Lab for the first time after the construction was finished. I remember the feeling that I had when I knew this was a place I could call home where my undergraduate experiences and memories would be made."
Tarun Nagarajanm
Bioengineering undergraduate student class of 2020
The legacy of William L. Everitt
In November 2019, the Big Ten Network debuted a 30-minute documentary, "William L. Everitt: An Optimist's Journey."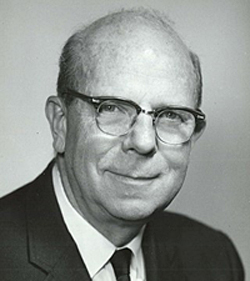 An American scientist, inventor, author, educator and engineering visionary, William Littell Everitt helped transform the department of electrical engineering (now electrical and computer cngineering) and College of Engineering (now The Grainger College of Engineering) at the University of Illinois Urbana-Champaign into the internationally renowned research and education powerhouses they are today.
Everitt rose to prominence during the late 1920s and '30s while at The Ohio State University, where he earned his Ph.D. There he also wrote the book, "Communication Engineering," first published in 1932 and followed by three editions, which introduced several generations of students to the telecommunications field.
During World War II, Everitt made important contributions especially as a radar pioneer, including inventing the radar altimeter, which is used in all aircraft in some form to this day. He also developed early network and antenna designs.
After the war, in 1945, Everitt became EE department head at Illinois. In 1949, the EE Building was completed, and that same year, he became dean of the College of Engineering, where he implemented collegewide reforms for the next 19 years.
Everitt also held nearly every major office in key professional and engineering education societies, influencing engineering curricula on a national scale. He served as a founding member of the National Academy of Engineering, and he was especially proud of helping to bring Illiac I online in 1952 — which was both the University of Illinois' first computer and the first computer built and owned by a U.S. educational institution.
"My grandfather was an accomplished engineer, and on that alone he could be remembered," said his grandson William Everitt III. "He was also an accomplished educator, and on that alone he could be remembered. But what his legacy really is, and where he did change the world, was creating the philosophical foundation (on) which a first-tier research university can build itself."
Among the internationally recognized faculty Everitt hired during his tenure are engineering luminaries two-time Nobel Laureate John Bardeen, light-emitting diode (LED) inventor Nick Holonyak Jr., and silicon technology pioneer Chih-Tang Sah.
Everitt retired as dean in 1968 but continued to influence U.S. telecommunications policy and direction via his membership on several committees and panels. During his lifetime, Everitt also received many prestigious awards and honors, including the Institute of Radio Engineers Medal of Honor, being named one of the Top Ten electrical engineers of all time by the Institute of Electrical and Electronics Engineers, and receiving 10 honorary doctorates.
William L. Everitt died in Urbana, Ill., on September 6, 1986, at the age of 86 and later was inducted into the Engineering Hall of Fame at Illinois. In 1988, the EE building was renamed Everitt Laboratory in his honor, and it carries his name to this day.
Renovated Everitt Lab provides modern instructional and research facilities for learning, creating and innovating thanks to the Grainger Foundation, which provided a $20 million lead gift through its Grainger Breakthroughs Initiative. Jump Trading provided a $10 million gift to establish the Jump Simulation Center in Everitt Lab, which is part of the new Carle Illinois College of Medicine. If you would like to support William Everitt's legacy, please consider contributing to the Everitt Laboratory fund.
Make an impact at BIOE
Your gift to the Bioengineering Priority Fund provides vital, unrestricted support that allows the department of bioengineering to strategically invest in critical initiatives that will transform the student experience, drive world-changing research, and address social justice in engineering education and research.