Baxter Awards Young Investigators
University of Illinois Urbana-Champaign bioengineering PhD student Jongwon Lim and postdoctoral researcher Indrajit Srivastava recently received prestigious Baxter Young Investigators Awards for their innovative efforts in the field of bioengineering. This award is given to graduate students and postdoctoral fellows engaged in research that has the potential to save and sustain patients' lives.
Jongwon received a first-tier award for his research abstract Highly Sensitive Culture-Free Pathogen Diagnosis in Whole Blood Using Simple Blood Drying and Isothermal Amplification, while Indrajit earned a second-tier award for his abstract, A Biomimetic Lipid-Like Coating for Improving Long-Term Storage of Nanotherapeutics and Nanovaccines as Lyophilized Powders.
"I am deeply humbled and honored to receive this award," Jongwon said. "In the process of applying for the award, I was able to reflect on the values and goals of my research. This award will enable me, as a bioengineer, to continue to make contributions to life and humanity through translational research."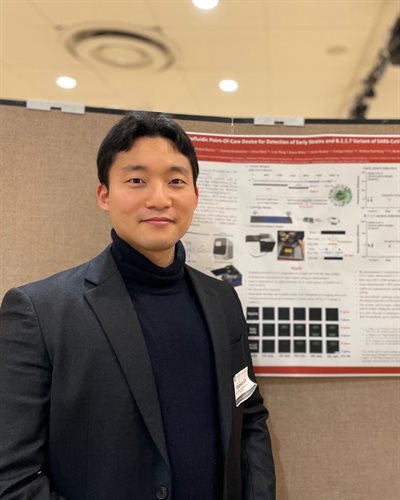 Jongwon's research is centered on the detection of bloodstream infections like sepsis, the life-threatening organ dysfunction caused by extreme reactions to infection. Through rapid blood drying and the creation of micro/nanoscale fluidic structure inside of the dried blood, Jongwon's research shows that it's possible to achieve rapid and sensitive detection of pathogens in blood.
"This whole platform can bypass the current gold standard blood culture, which normally takes one to five days," Jongwon said. "So we can reduce the time it takes to get results from over 20 hours to two hours, which is very significant. And this will lead to saving more lives."
"For now, we are working on simplifying and automating the protocol to allow processing of larger volumes of blood," Jongwon continued.
Like Jongwon, Indrajit's research is also focused on saving lives and improving the efficacy of medical treatment, this time by improving the transportability of nanoparticles. Nanoparticles are used frequently in the medical field, and are often present in modern vaccines. These lipid nanoparticles cannot be converted into powders, which means they cannot be stored at room temperature. Instead, they require extensive transportation and specialized refrigeration equipment to make sure they are still effective when they reach their destination.
"Very little insight has been given to this problem of nanoparticle transportation and storage," Indrajit said. "What we have done here is extract the membranes from natural red blood cells, and subsequently coat them on the nanoparticles. We have shown that by doing this you can lyophilize these biomimetic nanoparticles into powders, and even up to six months later the physicochemical properties of these nanoparticles are stable."
Indrajit's work on this project is an advancement on his previous nanoparticle research (which also received the Baxter Young Investigator Award in 2021), and shows that not only can these nanoparticles be protected by the red blood cell membranes, but can serve as a sensor to help identify diseases once the membrane is removed.
"So it's like a two-in-one effort," Indrajit said. "You can save the nanoparticles long term. But these biomimetic nanoparticles can also be an intrinsic nanosensor for different diseases."
With research backgrounds like these, it's no surprise that Jongwon and Indrajit both have significant plans for the future.
"I am interested in translational research for detecting various diseases," Jongwon said. "One of these projects is developing a platform that can detect multiple viruses simultaneously, including COVID, influenza and RSV. These respiratory diseases share similar clinical symptoms, so identifying the correct one in order to prescribe specific drugs to the patient will be very important."
Indrajit, who is currently a postdoctoral researcher working with professors Shuming Nie and Viktor Gruev, has future plans of becoming a tenure-track faculty and exploring the untapped area of repurposing natural materials into nanosensors.
"My next step is to be an independent faculty member in a research university. I will be applying for tenure-track positions in the fall," Indrajit said. "I'm looking to build up on research so far where I'm using tunable and natural cell-membrane derived proteins to develop nanosensors for early disease detection. These intrinsic nanosensors can generate a specific "spectral" signal in response to a disease state without any specific modifications.
In light of their awards, both Jongwon and Indrajit expressed appreciation for the inspirational people they've known throughout their careers.
"Everyone I've worked with thus far has inspired me in some way," Indrajit said. "Ever since I started working in a lab, I've worked with a diverse research team where everyone had different thought processes, which really helps you when you're approaching a scientific problem. All big efforts need a big team, and I'm glad that during my PhD and postdoc I worked with scientists who helped me improve every single day. Special appreciation for my PhD mentor, professor Dipanjan Pan, and postdoc mentors, professors Shuming Nie and Viktor Gruev."
Jongwon's work towards his PhD has involved working closely with lab seniors and specific faculty members, particularly his principal investigator (PI).
"I am very grateful to previous lab seniors Anurup Ganguli and Ariana Mostafa, bioengineering PhD alumni, and professor Enrique Valera. Most importantly, my PI professor Rashid Bashir was extremely supportive," Jongwon said. "He always inspires me and gives me deep insight into becoming an expert in my field, and I would like to express my sincere gratitude."
"And I want to thank my wife, Minnyoung Lee," Jongwon said. "She's the one that makes me work hard and feel comfortable. Because getting a PhD is a long journey, and it's hard to maintain your pace for a long, extended time. And my wife helps me do that, so I want to especially thank my wife."
Jongwon and Indrajit both received monetary prizes from Baxter, and Jongwon will present his research onsite at the Baxter offices in Chicago on November 10, 2022.