Orientation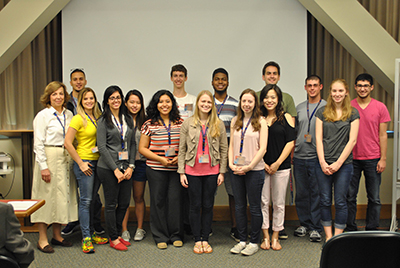 From left to right: Marina Marjanovic, Jorge Maldonado, Karla Ramos, Denise Almora, Sophie Xie, Wendy Reyes, Matthew Kavanaugh, Hannah Bouvin, Malik Snowden, Alison Taylor, Joanne Li (graduate mentor), Spencer Mamer (graduate mentor), Kinsey Lyn Schultheis, Kareem Al-Qadi
Working in the lab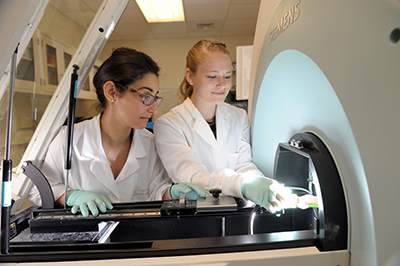 Jamila Hedhli, graduate mentor, works with Hannah Bouvin in the Prof. Dobrucki's lab.
Matthew Kavanaugh works with Saumya Tiwari in Prof. Rohit Bhargava's lab.
Jorge Maldonado and Prof. Brad Sutton in the MRI lab.
REU student Malik Snowden presents the results of his research at the campus symposium. Snowden worked in Prof. Iwona Jasiuk's lab.
Travel to BMES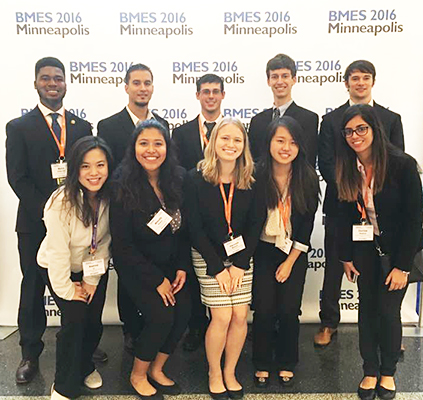 A group of students from the Discoveries in Bioimaging REU participated in the Biomedical Engineering Society (BMES) annual meeting in Minneapolis, October 4-8, 2016. Pictured here, left to right, are: (front row) Joanne Li, BIOE graduate student and REU mentor; Wendy Reyes; Hannah Bouvin; Sophie Xie; Denise Medina Almora; and (back row) Malik Snowden; Jorge Maldonado; Jacob Erstling; Matthew Kavanaugh; and Andrew Smith, co-PI of the REU.
National Presentation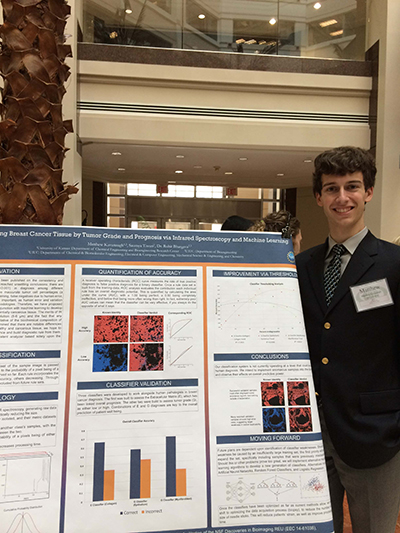 Matthew Kavanaugh, 2016 Discoveries in Bioimaging REU participant, was selected to present his research at the Research Experiences for Undergraduates Symposium. The symposium was organized by the Council on Undergraduate Research, a U.S. non-profit organization that supports and promotes undergraduate research. The Council includes more than 900 member institutions of higher education. Kavanaugh was mentored during the 2016 REU at Illinois by Bioengineering Professor Rohit Bhargava.