Bioengineering alumna among the inaugural class of graduates from the Carle Illinois College of Medicine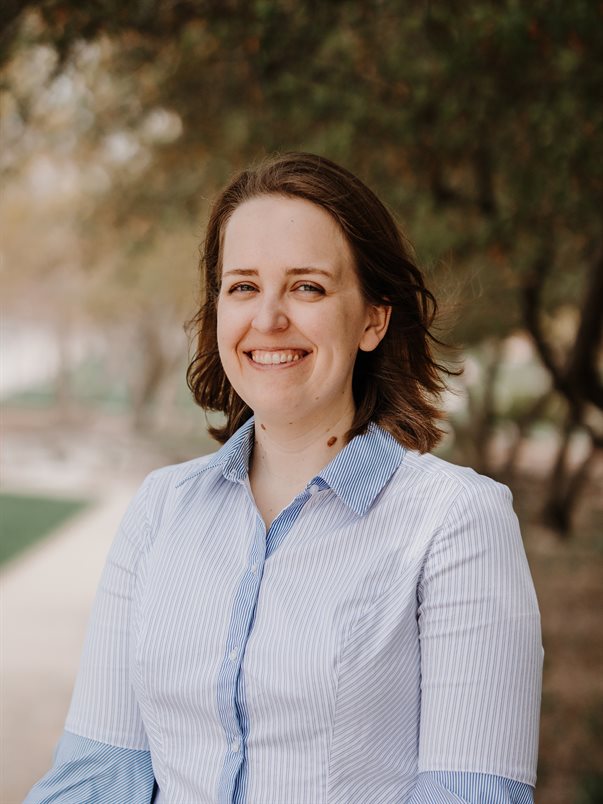 Elizabeth Woodburn (BIOE B.S. '18) comes from a big Illini family with her parents, grandparents and extended family members having attended UIUC. This May, Woodburn is leaving her own mark on the university by being among the inaugural graduating class of the Carle Illinois College of Medicine - the world's first engineering-based medical school.
Woodburn knew that she wanted to study bioengineering because she loved working with her hands and was interested in exploring health care applications. The project-focused curriculum of the bioengineering undergraduate program exposed her to topics with clinical relevance. BIOE 476 Tissue Engineering, taught by professor Gregory Underhill, was one of the courses that sparked her interest in pursuing medicine. This course explores stem cells, immunology and clinical applications of cell and tissue engineering.
Another course that left a lasting impact on her was BIOE 380 Medical Imaging taught by professor Stephen A. Boppart, who is also now a dean at the medical school. This course provides a foundational understanding of imaging technologies such as X-ray, CT, MRI, and ultrasound, which Woodburn expects that she'll need in her day-to-day practice as a physician.
Woodburn also conducted research in professor Brian Cunningham's Nano Sensors Group, working on point-of-care diagnostics. She graduated from the bioengineering B.S. program in 2018 with a track concentration in Imaging and Sensing.
"The undergraduate experience worked out for me and I ended up with such a lovely combination of a small program attached to the resources of a big school," she said.
The inaugural class at the Carle Illinois College of Medicine is made up of a diverse group of students who bring with them unique perspectives and professional experiences. Many, like Woodburn, have backgrounds in engineering. "The strength of this mix of classmates was quickly apparent," she said. "Needs identification and project management were skills that we had coming out of an engineering curriculum."
The paradigm-shifting curriculum at the new college of medicine is designed to train future physician innovators. As a part of their course of study, medical students are expected to generate new ideas to address health care challenges that they witness during their third-year clerkships. "For each rotation, we were expected to pitch at least one idea to solve a current problem," she said. "It was a really neat experience to step back from the intensities of working and have protected time to examine everything from device-level problems to systemic or data issues."
The students eventually picked one idea to further develop as a part of their fourth-year capstone experience. For Woodburn, she chose to tackle a challenge that she experienced during her pediatric and emergency medicine rotations which was the issue of access to medical interpreters. Through a collaboration with the bioengineering program, Woodburn became a project sponsor for a team of bioengineering undergraduate and Master of Engineering students. This capstone experience is a unique throughline between the college of medicine and the college of engineering.
Along with fellow medical school student Kitan Akinosho, Woodburn spoke extensively with nurses, physicians and interpreters to understand the gaps in the current translation process. The resulting prototype is a medical translation app called Language Lifeline, which facilitates daily interaction between clinical staff and patients with limited English language proficiency. This app addresses the issue of miscommunication in health care from language barriers and strives to improve patient experience and outcome. It was awarded an ASTM Project Grant which recognizes students who have demonstrated a high level of interest in using ASTM standards in their projects.
Woodburn said, "Being a physician innovator to me means asking why we do things a certain way and could there be a better way. It's also about staying patient-focused and not innovating just for the sake of building something new."
Like other medical students around the world, Woodburn's medical school experience was also shaped by the backdrop of the global pandemic. During the height of mask shortage, she reconnected with a former labmate, Kenneth Long (UIUC Ph.D., UICOM M.D.), whom she met in her undergraduate research lab. Together, they partnered with the Carle Foundation Hospital to develop a low-cost conversion of existing hospital equipment to measure filtration efficiencies of alternative mask materials. They published this work in PLOS ONE.
Woodburn will be starting her residency in pediatrics at Duke University in July. She is particularly interested in working with children who live with medical devices like insulin pumps, feeding tubes, ventilators, etc.
For current bioengineering students interested in a career in medicine, she shared, "Focus on doing what you enjoy and what interests you without worrying too much about following a traditional pre med path. Someone who is passionate really stands out. You will also find yourself in a place that's more fulfilling."