9/26/2016 3:21:00 PM
Anurup Ganguli, Ph.D. student in Bioengineering at the University of Illinois at Urbana-Campaign, received this year's First Prize of $150,000 in the Student Technology Prize for Primary Healthcare competition, administered by Massachusetts General Hospital through its Ambulatory Practice of the Future (APF) initiative.
The project created by Ganguli and his team, "Personalized Multiplexed Molecular Diagnostics for Point-of-Care Setting," offers a novel technology for rapid detection of infectious diseases in all primary-care settings. With the $150,000 prize, the students will accelerate the development of their diagnostic tool, which collects a patient's blood sample with a simple finger prick, making it an affordable option in resource-limited countries.
Also on the Illinois team are Bioengineering Ph.D. students Akid Ornob and Tanmay Ghonge, and Gregory Damhorst, M.D. student and recent Ph.D. Bioengineering graduate. The team developed their project under the mentorship and guidance of Rashid Bashir, Abel Bliss Professor in Bioengineering and Bioengineering department head, and Brian Cunningham, Donald Biggar Willett Professor in Bioengineering and in Electrical and Computer Engineering and director of the Micro and Nanotechnology Laboratory at Illinois (MNTL), where the team conducted its research.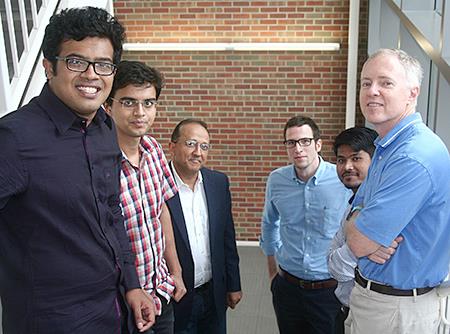 "Our team is very passionate about providing low-cost, robust diagnostic platforms to the world, and in the coming years we hope to translate a few of these techniques to the market," Ganguli said. "This project is a small step towards that end goal."
According to Ganguli, the team's diagnostic tool detects a range of infectious diseases, including HIV, hepatitis B, hepatitis C, and Zika virus, and it does so with superior sensitivity and minimal sample processing compared to conventional techniques. "The exciting thing is that, by using our technique, all of these diseases can be detected at the point of care with lab-equivalent sensitivities," Ganguli said.
Each year, the competition awards $400,000 in prizes to the most promising projects. Ten finalists are selected early in the competition, and each receives $10,000 to continue their work. Among the 10 finalists is Qian Chen, Ph.D. student in Computer Science at Illinois, whose project is "Population Screening for Chronic Disease Using Smartphone Sensors."
In announcing the winners of this eighth annual national prize for primary healthcare, Ronald Newbower, Ph.D., strategic advisor of the Massachusetts General Hospital (MGH APF) and director of its prize competition, stated, "We are delighted with the quality of the entries this prize competition has elicited each year from engineering students. They are clearly eager to develop innovative technologies to address international, as well as national, challenges in primary care. We believe the winners of these major awards are headed toward truly significant careers and may well serve as role models for others in their field. We are proud to be able to support their efforts."
Dr. Benjamin Crocker, Medical Director of the MGH APF, added, "In our commitment to improve the paradigm of care for patients, we seek new tools enabled by novel technologies, which can improve our ability to make rapid and more accurate medical decisions and engage patients in their care, whether patients are in the clinic or elsewhere. We believe that with such tools, the primary-care teams of the future will play an even more effective role in streamlining diagnosis and treatment, thereby reducing the cost and adverse outcomes that result from inefficiency and delay in appropriate care."
About the prize for student innovation in primary healthcare
The awards are made possible through a generous gift from the Gelfand Family Charitable Trust. "The challenge of delivering affordable, excellent primary care presents an opportunity for those students interested in engineering solutions to make truly profound contributions," said Mark Gelfand, a principal in the trust. "I am pleased with the continued success of this unique competition in driving toward that goal. Innovation in primary care could help many families, and I am confident that much good will result from these inspiring projects."
http://www.massgeneral.org/apf/studentprize/
About the Ambulatory Practice of the Future
Launched in 2010, the Ambulatory Practice of the Future (APF) is an innovative team-based, patient-centered primary care practice at Massachusetts General Hospital. APF serves its employee population and their dependents in innovative ways not tied to the traditional office-visit paradigm and with a reimbursement model reflecting quality-of-overall-care outcomes rather than volume of visits or encounters. APF's Innovation Learning Program collaborates with academic and industry partners to explore new pathways of care and new technologies to address the challenges in primary care with an eye towards building more efficient and cost effective care, improving the patient experience, increasing career satisfaction for primary-care teams and improving long-term medical outcomes. With this student prize competition, the APF extends its reach for new ideas nationally, and has engaged the creativity of engineering students at dozens of universities.
http://www.apf.partners.org