8/3/2020 12:05:36 PM
It's hard to believe that fall classes will be starting soon. Five bioengineering rising sophomores reflect on their freshman year experiences and share the following advice for the incoming class of 2024.
Nathan Chung
Apply to everything that you're interested in. Don't worry about the rejections. What matters more is finding that one "yes" you get that can further your career or passion. I have been rejected from a lot of RSOs, labs, and student positions in my first year here. But I don't have any regrets about it, and I love where I'm at now.

Find a place or activity to do to clear your mind. At least for me, transitioning to college was a huge change for me and to clear all my worries and stressors, I used to play a lot of basketball and tennis. But now, I periodically observe the peacefulness of campus at night or walk around the whole campus with a friend.
Amartya Dave
The biggest aspect of college I've learned to appreciate is the enormous amount of potential you have as an individual. Don't be afraid of change and embrace it readily. Make the most out of the situation that you are in regardless of what it is and use that experience to better yourself. In terms of school work, you have to learn to manage your time and do your homework. There are a lot of resources in college that can help you succeed.

One of the biggest things I was able to do in freshmen year was not only to develop passions for what I already liked but also to reach out and learn more about things that I didn't know I was interested in. I highly encourage incoming freshmen to get involved and develop your passions.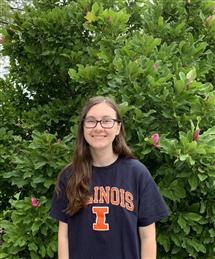 Grace Huberty
My most helpful resource for navigating freshman year was definitely the BIOE upperclassmen! Everyone I met in the BIOE department had a few words of advice and encouragement when I needed it. The upperclassmen have all been freshmen too, so they have tips for everything from your classes to the best dining halls. I remember asking them about leadership opportunities, research, coding, and even how to use the campus buses all during my first few weeks on campus. If you need advice about something, all you have to do is ask!
Hayden Moore
I really feel the expectation as an incoming freshman is that you'll meet your best friends instantly right after moving in, but that's not necessarily true for everyone. So be patient when you first get here and go to quad day and sign up for at least one school club you'd find interesting. It'll be worth it.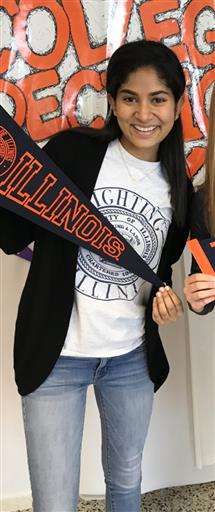 Kayva Sudhir
I think my first year as a BIOE at Illinois was an eye-opening experience. Every one of your classmates and professors in your intro-level BIOE classes has a different reason for becoming a bioengineer. So, the biggest piece of advice I can share is to learn their stories and listen to their passions because it will shape your interests as well! From meeting with other peers, I was able to develop a startup venture with three other peers - something I had never dreamt of before. The connection between the Carle Illinois College of Medicine and the bioengineering department has led to many great opportunities including the Health Make-A-Thon, an opportunity I was introduced to from talking to my professor! If you have an idea that you believe has a societal impact in medicine, I encourage you to submit it to this competition! Not only do you have a chance to win $10,000 towards developing your product but also meet other innovators and gain insight from mentors such as research professors and other startup CEOs. If you want to learn more, feel free to contact me at ksudhir2@illinois.edu.