BioE communications office
4/15/2019 1:36:24 PM
Illinois Bioengineering faculty were among those who presented during the Mayo Clinic & University of Illinois Alliance for Technology-based Healthcare workshop—"Human Diseases at the Crossing of Science, Engineering, and Medicine"—on April 13 & 14 at the University of Illinois at Urbana-Champaign.
The workshop brought together medical and graduate students in the biomedical community from Mayo Clinic and students from the Illinois' Master of Engineering in Bioengineering program to spark innovation and discuss technology-driven solutions to the grand challenges in medicine.
"We heard from leading experts in biosensing, artificial intelligence, smart implants, and robotics," said workshop co-chair Dipanjan Pan, associate head of the Bioengineering Graduate Programs and an Illinois Bioengineering associate professor. "Students learned to formulate solutions to unmet clinical needs using a 'white paper approach' and apply crucial skills at the interface of engineering and science."
According to Bruce Horazdovsky, associate dean of the Mayo Graduate School, this is just the latest event that the Mayo Clinic and Illinois Alliance has offered to bring together students from the Mayo Clinic College of Medicine and Science and the Illinois Department of Bioengineering to explore this interesting cross-road between science and medicine.
"This workshop provided an outstanding opportunity for graduate, medical, and MD-PhD students to learn from the world's experts at Illinois how engineering truly impacts medicine and patient care in exciting new ways," said Horazdovsky.
Workshop activities included team-based problem-solving and tours of various state-of-the-art labs and centers around the Illinois campus, including Beckman Institute and the Jump Simulation Center.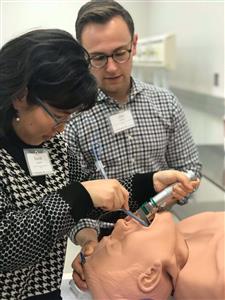 The workshop featured two renowned keynote speakers, John Rogers, professor of Materials Science and Engineering, Biomedical Engineering, and Neurological Surgery from Northwestern University, who presented his work on soft electronics for the body; and Rashid Bashir, Bioengineering professor and the dean of the Illinois College of Engineering, who presented his research group's work on microfluidics and nanotechnology for biology and medicine.
Other plenary presenters included:
This workshop was funded by the Mayo Clinic and University of Illinois Alliance for Technology-Based Healthcare through the Interdisciplinary Health Sciences Institute on the Illinois campus, and Mayo Clinic's Center for Individualized Medicine and College of Medicine and Science.
"The Mayo-Illinois Alliance was pleased to provide support for this workshop to build on the long history of educational programs that the Alliance has supported, including Summer Undergraduate Research Fellowships, IT Interns, Graduate Fellowships, and the Computational Genomics Shortcourse," said Bryan White, director of the Alliance and professor of Animal Science at Illinois. "We're pleased that this workshop provided new educational opportunities in technology-based healthcare for medical students on the three Mayo Clinic campuses."