Laura Schmitt
3/12/2018 2:30:42 PM
A specially designed toothbrush for people with hand tremors, affordable 3D printed anatomical models for high school science classes, and self-assembling DNA structures that can deliver drugs inside the body—these were some of the Biomedical Engineering Society (BMES) projects that earned awards at the University of Illinois 2018 Engineering Open House (EOH) March 9-10.
"We are proud of our Bioengineering students," said Teaching Associate Professor Marci Pool, director of Bioengineering undergraduate programs. "EOH offers a chance for the public to see the talent and innovation we see each day. However, EOH offers more than a chance for our students to demonstrate their ability to integrate engineering knowledge to create educational activities displaying the importance of bioengineering, it offers students a chance to gain experience in developing important professional skills: teamwork, leadership, and project management."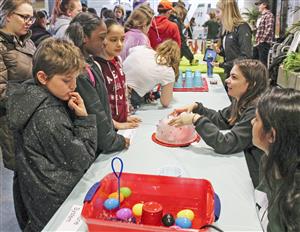 Run entirely by U of I students, EOH is an annual two-day event that attracts thousands of visitors to campus and showcases the talent and ingenuity of engineering students through hands-on projects, exhibits, and competitions. In addition to the dozens of Bioengineering students presenting projects, three Bioengineering undergraduates served in leadership roles on the EOH planning committee—Jonathan Chang (director of traffic and safety), Andrew Gonsalves (director of special events and advancement), and Jeffrey Varghese (historian).
In all nine BMES projects received prizes. Congratulations to the prize winners and all the BMES students who presented their work at EOH. Here's a rundown of the winners in each category.
The Real World category
1st place: StabiliTeeth, an innovative and affordable device that enables people with hand tremors to more easily brush their teeth (patients with Parkinson's Disease, ALS, or post-traumatic stress disorder, for example).
2nd place: HeatSense Glove incorporated an Arduino microcontroller on the back of a firefighter's glove, providing a readout of critical, real-time biometric and temperature data.
3rd place: Growing Prosthetic designed an inexpensive alternative to conventional artificial limbs. This new arm fits a child as he/she grows while maintaining gripping functionality.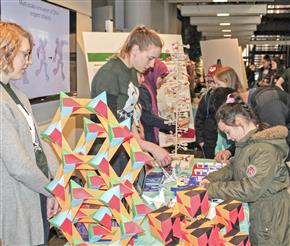 Back to School category
1st place: DNA Orgami used base pairing puzzles to demonstrate how DNA self assembles into 2- and 3D structures that can be used to deliver drugs in the body.
3rd place: Fluroescence demonstrated how this light-emitting technique can be used to detect cancer.
Drafting the Future, Presented by Rolls Royce category
1st place: Re-engineering Education/3D Printed Anatomy and Physiology Models used MRI scans and modeling software to create various 3D printed models that have been used by local high school students in physiology and anatomy classes. These 3D printed models are significantly more affordable than existing commercial models.
Presentation of Society category
2nd place: Special Delivery: It's Drugs
Best Kickoff of EOH category
2nd place: Immunoengineering, Using the Body to Fight Disease used 3D models to show how immunotherapy works in battling cancer and infectious diseases.
3rd place: Bubble Buddies showcased how nanobubbles are made. These nano-scale lipid particles are being explored as a way to treat cancer and glaucoma.