Laura Schmitt
11/29/2017 1:58:36 PM
A member of the class of 2020, Bioengineering student Ana Rivero Valles has always been interested in how structures of the body (bones and muscles, for example) work, so she is focusing her studies on biomechanics, while also minoring in chemistry. Ultimately, she wants to design and develop medical devices and is planning on pursuing medical school.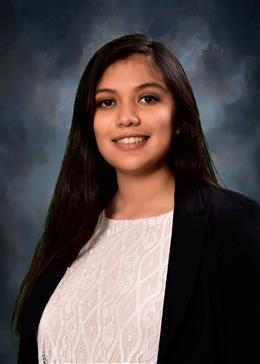 Receiving an Engineering Visionary Scholarship helps Ana focus on her studies and professional development while in college, rather than having to worry about how to pay for school. She is the treasurer for the Society of Hispanic Professional Engineers, where she manages the finances and plans fundraisers for the student group. Ana is also an active member of the student chapter of the Biomedical Engineering Society (BMES) and is working on a gait analyzer project that could help people with Parkinson's disease or muscular distrophy--the project will be displayed at the annual Engineering Open House in March.
These organizations have helped Ana feel more at home on campus while building her academic and professional knowledge. In addition to her extra-curricular activities, Ana is a James Scholar--a college-level honors program--and she is a member of the Cancer Scholar community, which helps students gain research experience and knowledge specific to cancer early in their academic career.
"The EVS means a lot to me and is a great source of pride," said Ana, who pays tribute to her parents for their hard work and support to help her achieve success. "[The scholarship] is a way for me to show that they taught me to be as hard working as them."
Ana, who immigrated to the United States about five years ago with her family, never imagined herself going to college in America, because she always thought she'd attend school in her home country of Mexico. "My parents supported me and my education and now I support them by doing my best and earning this scholarship."
Ana's hard work is paying off. Recently, she was part of a U of I student team that competed in the International Genetically Engineered Machine (iGEM) competition in Boston. The team developed technology to make a cloning process called Gibson Assembly more affordable.