Student Spotlight: Jason Robinson
When bioengineering sophomore Jason Robinson was ten, he raced in the Boilermaker 15k. It was his first wheelchair road race, and the beginning of a career that would not only progress to marathon-length races, but would lead him to the University of Urbana-Champaign and the Department of Bioengineering.
Jason, who is originally from upstate New York, originally chose to come to Illinois because of UIUC's prestigious wheelchair track and field team.
"I've known about UIUC's track and field team since I was a kid," Jason said. "So my goal was Illinois, no matter what."
With his eye on the UIUC team, Jason gained experience at home by racing with a New Jersey paralympic team called the North Jersey Navigators throughout middle and high school. In 2018, he had the opportunity to represent the United States in the IWAS Junior Worlds competition in Ireland. He came home from the event with two silver medals and three bronzes, and a renewed passion for racing.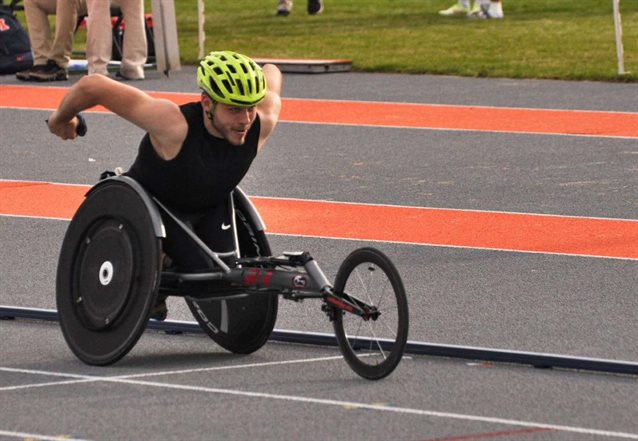 After getting accepted to UIUC and joining the wheelchair track and field team here, Jason set his sights on longer races. "I did my first marathon last year," he said. "The Chicago Marathon was my first marathon with the team here, and I fell in love with them."
Since then, Jason has competed in five marathons, with more races coming up this spring. His training is intensive, with eight or nine workouts a week that add up to around 100 miles of total distance.
"My biggest goal is to make a Paralympic team someday," Jason said. "For sure. That's been one of my goals for a while. I want a medal at the Paralympic Games. I want to win gold. I want to be the best in the sport at some point."
Although Jason knew from a young age that he wanted to come to Illinois for the athletics, he didn't always know exactly what he wanted to study. However, it didn't take long for him to find the right track.
"I always really wanted to be a part of the medical field," Jason said. "Growing up, I spent a lot of time in the medical field with my disability. I was in and out of hospitals, I had a lot of surgeries, and I got a really close relationship with so many of my doctors that it just drew me towards the medical field."
Although Jason was interested in health care, med school itself didn't appeal to him. However, he was immediately interested when he first learned about bioengineering from one of his doctors.
Since joining the bioengineering department at UIUC, he's made impressive contributions. Jason is currently a member of professor Holly Golecki's lab, where he does research on soft robotics. Jason is one of many students who has had the opportunity to conduct bioengineering lab work as an undergraduate.
"Dr. Golecki does a really good job of including undergrads, so that they get that lab experience," he said. "It's great because if those students go on to grad school and they want to be a part of a lab, they are prepared for that level of work."
His ongoing project is designing a better kind of wheelchair cushion that will reduce or eliminate pressure sores, a skin abrasion that results from sitting in the same position for a long time. Pressure naturally builds in the contact areas between skin and surface, and if the pressure is not alleviated, it can lead to wounds and infections.
"We want to try to create a solution that continuously offsets that pressure," Jason said. "We want to create a device so that people at risk of pressure sores don't have to be on bed rest, and they don't have to continuously switch their position to combat sores—they can just live their lives."
The research is promising enough that Jason had the opportunity to present it at the 2022 Biomedical Engineering Society (BMES) conference.
"I got a lot of great feedback at the conference," Jason said. "It was awesome. A little nerve-wracking presenting in front of everyone, but it was a great opportunity."
With talents in athletics and academics, Jason has a world of opportunities open to him. His advice to students who aren't sure what route is best for them?
"Try everything you can," Jason said. "Don't get discouraged if you don't necessarily succeed the first time. It takes some time to work it all out."