Creating Better Blood-Infection Diagnoses
A team from the Department of Bioengineering, Carle Illinois College of Medicine, and Carle Foundation Hospital has developed a groundbreaking new approach for detection of pathogens from blood. Bioengineering alumni Anurup Ganguli and Ariana Mostafa, current bioengineering PhD student Jongwon Lim, bioengineering professor Enrique Valera, Carle Foundation Hospital collaborators James Kumar, Karen White, and others were part of the team led by bioengineering professor and Grainger College Dean Rashid Bashir.
The team recently published an article on this bloodstream infection diagnosis technology in Proceedings of the National Academy of Sciences of the United States of America (PNAS).
Their article, "A Culture-Free Biphasic Approach for Sensitive and Rapid Detection of Pathogens in Dried Whole-Blood Matrix," describes work the team has conducted to dramatically reduce the amount of time it takes to diagnose bloodstream infections. These reduced diagnosis times can lead to faster treatment and saved lives.
While the blood culture, a current gold standard, can take up to five days for a diagnosis, the blood-drying method described in the article has maintained a 100% sensitivity rate while dropping diagnosis times to under two and a half hours. The blood-drying process will also require less complex equipment and involve fewer costs for both patients and administrators.
As a result, the team is optimistic that their research could have a positive impact not only on individuals suffering from bloodstream infections, but on healthcare systems as a whole.
Lead author Anurup Ganguli worked on the project during his PhD dissertation, with the inspiration for the technology drawn from the dried blood spot assay that dries a drop of blood on a filter paper for subsequent analysis to look for pathogens.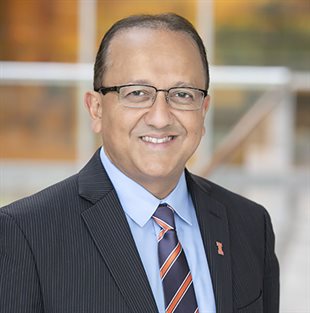 "What if we can scale that up and use a much larger volume of blood and dry it?" Ganguli asked. Doing so results in a network on micro-nano porous biphasic matrix that allows the detection of even a few copies of nucleic acid from the target pathogen, without the need for lengthy culture processes.
"We expect a reduction in instrumentation complexity and costs," said Jongwon. "This could have broad applications in healthcare systems across the world, particularly in resource-limited settings."
By simplifying the process and reducing the costs of infection diagnosis, more people around the world will have access to time-sensitive treatment, especially in areas where it's needed most.
"I had an opportunity to visit Carle Hospital clinical testing labs, so I was able to see the current clinical laboratory testing practice," said Jongwon. "Thanks to our collaboration at Carle, this was a valuable experience that helped us design the workflow of the new assay."
The team is now expanding efforts to detect viruses and multiple pathogens from the same sample. The technology can have a profound impact on early detection of sepsis and blood borne infections, thus allowing appropriate use of antibiotics, saving significant resources, and most importantly saving lives.
"A Culture-Free Biphasic Approach for Sensitive and Rapid Detection of Pathogens in Dried Whole-Blood Matrix" can be viewed online.