NIH funds bioengineering team to study RNA-targeting CRISPR enzymes for gene therapy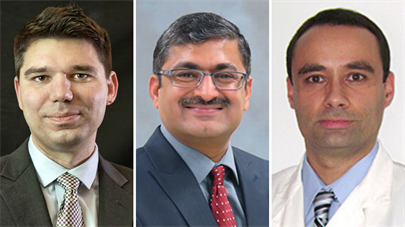 An Illinois research team has received a $1.8 million R01 grant from the National Institutes of Health (NIH) to study RNA-targeting CRISPR systems for the goal of applying them for gene therapy. The team is led by bioengineering professor Thomas Gaj and includes bioengineering professor Pablo Perez-Pinera and Som Nanjappa, a professor of immunology in the department of pathobiology. The R01 grant is historically the oldest grant used by the NIH which supports health-related research that aligns with its mission.
CRISPR has emerged as a powerful technique for editing DNA in cells; however, versions of the technology capable of targeting RNA have also been discovered. A research team led by Gaj recently demonstrated that one such RNA-targeting CRISPR enzyme, named Cas13, could be delivered to brains and spinal cords of mice to turn-off the production of mutant proteins causative for neurological disorders. These results were published in the journal Science Advances.
With this new grant, the Illinois research team will work to refine the performance of these RNA-targeting CRISPR enzymes for gene therapy, with a focus on neurological disorders. Among the parameters that will be studied by the team will be safety, as the investigators will profile the specificity of Cas13 with the goal of refining its specificity for future therapeutic applications.
Make an impact at BIOE
Your gift to the Bioengineering Priority Fund provides vital, unrestricted support that allows the department of bioengineering to strategically invest in critical initiatives that will transform the student experience, drive world-changing research, and address social justice in engineering education and research.