CLIMB officially launches with successful kickoff symposium
The University of Illinois Urbana-Champaign's Center for Label-free Imaging and Multiscale Biophotonics (CLIMB), supported by NIH and the National Institute for Biomedical Imaging and Bioengineering, recently marked its official launch with a kickoff symposium.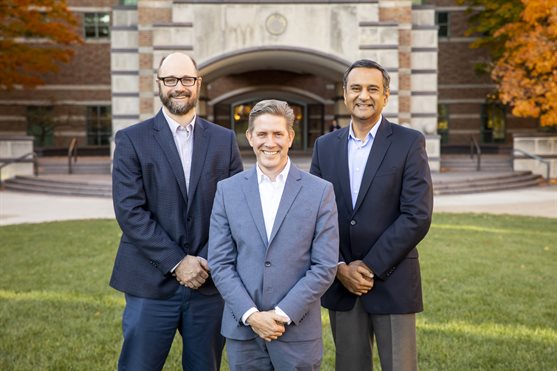 The event brought together renowned professors, researchers and students to celebrate the center's mission of advancing label-free imaging technologies and fostering multidisciplinary collaborations in biomedical research. This collaboration marked a distinct highlight of the event.
"The CLIMB kickoff symposium brought together so many of our collaborative and service project partners, as well as faculty, students, staff, and administrative leaders from UIUC, to share ideas and future plans for how CLIMB can benefit their research and research applications," said CLIMB director Stephen Boppart. "It was a wonderful exchange to explore what CLIMB can do for them, as well as what they can contribute to CLIMB."
Label-free optical imaging is a rapidly advancing field in biomedical imaging that addresses an important and long-lived issue in microscopy: while dyes, stains and labels have been used for years to help illuminate cells and other microscopic elements, those methods can actually damage or interfere with the biological processes that are being studied. In contrast, label-free optical imaging uses alternative methods in its imaging processes that take advantage of the inherent endogenous contrast mechanisms that exist in cells and tissues.
The CLIMB symposium was held in conjunction with a Memorial symposium that paid homage to Gabriel "Gabi" Popescu, a professor in the Department of Electrical and Computer Engineering and a key figure in the creation of CLIMB, who passed away last year. Professors and researchers from around the country spoke about Popescu's invaluable contributions to the world of science, as well as the foundation of CLIMB itself.
"Professor Popescu was the driver for the development of CLIMB over the last three years," said Boppart. "Gabi was remarkable in the way that he could bring diverse groups of collaborators together, and was instrumental in forming all the collaborative and service project partnerships that now make up CLIMB. We see CLIMB as an ongoing tribute and legacy that Gabi has left for us and for the field to continue."
The Popescu Memorial was followed by an introduction from Professor Boppart, who highlighted the significance of label-free imaging and the potential it holds for revolutionizing the field of biophotonics and biomedical optical imaging. He was followed by other distinguished speakers, including bioengineering professors Mark Anastasio and Rohit Bhargava, co-leads of CLIMB, who discussed the latest advancements in label-free imaging and their applications in various domains of research and healthcare.
Attendees were treated to a series of talks on subjects ranging from quantitative clinical and in vivo imaging to the use of biophotonics for investigation of cilia function in the fallopian tube, all with the goal of providing a glimpse into the vast capabilities of label-free imaging techniques.
The kickoff event at CLIMB provided a platform for researchers to gain insights into the latest advancements, foster collaborations, and ignite enthusiasm for label-free imaging technologies. CLIMB has proven that its future is bright, and there are exciting advancements in the field to look forward to.
"The ability to develop and implement label-free imaging technologies and new advanced AI/ML algorithms for computational methods will undoubtedly have a profound impact on how biophotonics and optical imaging can advance biomedical imaging in humans, as well as make foundational discoveries in the life sciences," said Boppart. "All of us in CLIMB are grateful for the endorsement and financial support from NIH and NIBIB for helping to realize the vision of our center."