Illinois faculty serve on the 2023 Coulter College Program's leadership team
This year's 2023 Coulter College program gathered bioengineering students from across the country–and one team from Colombia–and gave them the opportunity to tackle real-world medical problems, create innovative solutions, and turn those solutions into a workable, marketable product.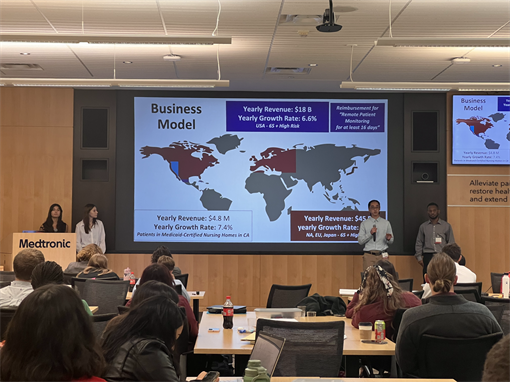 Bioengineering professors Jenny Amos, Joe Bradley, John Vozenilek, and Holly Golecki all dedicated time and effort to making this program a success.
This event, which was held on the Medtronic campus, asked participating students to solve a problem in a specific identified need area: atrial fibrillation, chronic hypertension, or nerve stimulators. Students then spent every day in the program engaged in continuous iteration of the medical engineering process, from understanding the business process and determining how they'll pay for their project and get it to commercialization, to the engineering of the actual product they were hoping to develop.
It was a big ask for such a short timeframe, and many of the students–all senior undergraduates–had very little experience with things like pitching product ideas and planning for commercialization. However, access to personalized guidance allowed for a lot of growth in a short amount of time.
"There was a team that had some logistical issues with their presentation, and were struggling with some of the content," said Amos, who served as the director and emcee of the program. "They sat down with me and Professor Golecki to talk about their project. We both gave them different advice, and when they presented their pitch the next day, they had transformed it. They had clearly put in a lot of work and had applied what they had learned. That, to me, was the best thing to see–teams that really took full advantage of what Coulter College offered and prospered as a result."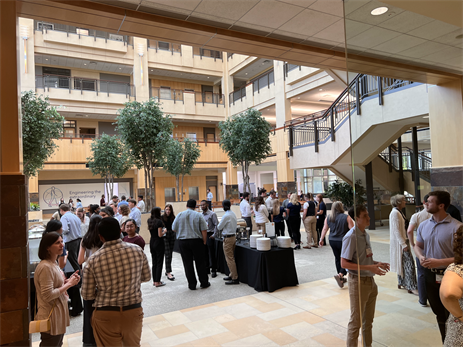 This combination of engineering and commercialization gives student teams the opportunity to experience how their bioengineering careers could play out once they've graduated, and can be particularly valuable to students whose engineering coursework doesn't naturally include some of the bridge-building elements between academia and industry. The Coulter College setting also offered students a multicultural lens to view their bioengineering work through.
"The types of solutions that were being proposed by the Colombian team were beyond fascinating to me, because their healthcare system is radically different from ours," said Vozenilek, a clinical consultant in the competition. "And the perspective that they were bringing to the table helped the US-based teams understand the differences between medical systems. It was a real joy to see the interchange between the Colombian and US teams."
After having the opportunity to learn from experts and other participating teams, student projects were evaluated based on how well they addressed the problem, how feasible their solution was, and how well they pitched it for commercialization. Winning student teams received cash prizes to help make their innovative ideas a reality, but their incentives went deeper than winning.
"It was great to see the level of engagement these students had," said Bradley, who helped guide student teams as a business consultant. "They had a vested interest in developing a solution to that problem that they were given, and you could see that they were working hard towards something that they felt could have commercial opportunities. They weren't just going through the exercise; there was a keen focus and desire to build something that could really help people."
The Department of Bioengineering has a history with the Coulter College, and has been involved with the program since its inception in 2015. While multiple Illinois teams have taken first place at the Coulter College program–including a team led by Professor Amos in 2015 and Professor Golecki in 2019 –this year there was no Illinois team participating in the contest due to the number of Illinois faculty serving in leadership positions in the program.
It's a testament to the strength of the program that Illinois faculty, as well as several other founding members of the Coulter College program, have continued to volunteer with the organization over the course of several years.
"I was struck at different times throughout the weekend thinking, wow, all these incredible people, experts in their fields, are here on a weekend giving up their time and volunteering for the benefit of the students," said Golecki, who served as a program judge and leader of a faculty session on bioengineering design curricula. "It was very impressive."