Gabriel Popescu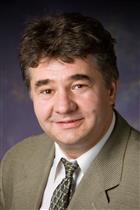 (217) 333-4840
4055 Beckman Institute
Assistant Professor
(217) 333-4840
4055 Beckman Institute
Research Topics
Bioimaging at Multi-Scale
Education
Ph.D. in Optics, 2002, College of Optics and Photonics, University of Central Florida
For more information
Research Topics
Bioimaging at Multi-Scale
Research Interests
Globally affordable blood testing
Interference microscopy
Optical properties of cells and tissues
Cancer diagnosis
Label-free imaging
Neuronal dynamics
Quantiative phase imaging of cells and tissues
Biomedical Optics/ Biophotonics
Research Statement
Our lab develops novel optical methods based on light scattering, interferometry, and microscopy, to image cells and tissues quantitatively and with nanoscale sensitivity. We apply our techniques to both basic science (e.g., cell dynamics, cell growth, intracellular transport, membrane fluctuations, tissue optics) and clinical applications (e.g., blood screening, cancer diagnosis). We are located in the Beckman Institute for Advanced Science and Technology, University of Illinois at Urbana-Champaign. Prof. Gabriel Popescu is faculty in the Department of Electrical and Computer Engineering and affiliated faculty in Bioengineering; our group members are from Physics, Electrical, Mechanical, and Bioengineering.
Selected Articles in Journals
T. Kim*, R. Zhou*, M. Mir, S. D. Babacan, P. S. Carney, L. L. Goddard and G. Popescu, White-light diffraction tomography of unlabelled live cells, Nature Photonics, 8, 256-263 (2014)
Z. Wang, L. J. Millet, M. Mir, H. Ding, S. Unarunotai, J. A. Rogers, M. U. Gillette and G. Popescu, "Spatial light interference microscopy (SLIM)", Opt. Exp., 19, 1016-1026 (2011).
H. Ding, Z. Wang, F. Nguyen, S. A. Boppart, and G. Popescu, "Fourier transform light scattering of inhomogeneous and dynamic structures", Phys. Rev. Lett. 101, 238102 1-4 (2008).
G. Popescu, T. Ikeda, R. R. Dasari, and M. S. Feld, "Diffraction phase microscopy for quantifying cell structure and dynamics", Opt. Lett., 31, 775-777 (2006).
Related news