Resources and Information
CHEM 105
Course credit for CHEM 105 is required for Bioengineering majors. The requirement is not waived with Advanced Placement (AP) credit for CHEM 104.
General Education/Social Science/Humanities
Of the 28 credit hours that Bioengineering majors must have in the General Education/Social Science/Humanities category, 18 hours must be in Social Sciences/Humanities and meet the following requirements:
6 hours in Social and Behavioral Science
6 hours in Humanities and Arts
6 hours in Liberal Education
1 course in Western Culture
1 course in Non-Western Culture
1 course in US Minority Culture
1 course in Advanced Composition
See the list of currently approved General Education Courses.
Retaking a Course
You are allowed to retake a course. If you receive a grade of "D- or higher", you earn the degree credit for the course. Retaking the course does not necessarily replace the old grade with the new grade, unless you apply for grade replacement through the College office.
Although a "D-" grade is passing, you are strongly encouraged to retake a course, especially if it is a core course or a prerequisite for another course.
Free Tutoring
Free tutoring is provided by the Grainger College of Engineering through the CARE Center, fourth floor of Grainger Engineering Library. Visit the CARE Center website for details.
Grade Point Average (GPA) Requirements
To qualify for registration for bioengineering courses shown in the third year of the curriculum, a student must have completed (with a combined 2.25 grade point average) the mathematics, engineering, and science courses shown in the first two years of the curriculum.
Credit/No Credit
All courses that are specifically required for your major or that count as general education requirements cannot be taken as Credit/No Credit. Also, be aware of the regulations at the following link to the student code, such as the instructor will not know that you are taking it for Credit/No Credit and will assign a grade. A grade of C- or better is credit when a student elects to take a course as credit or no credit.
Student Code
See the Student Code relating to credit/no credit option here.
"(c) Undergraduate Students …
(5) Any lower- or upper-division course may be chosen under the credit-no credit option except courses used to satisfy the University's general education requirements, courses designated by name or area by the major department for satisfying the major, minor, or field of concentration, or those specifically required by name by the college for graduation."
BIOE Undergraduate Contacts
MADDIE DARLING
Assistant Director of Undergraduate Programs
1240C Everitt Laboratory, M/C-278
1406 W. Green St.
Urbana, IL 61801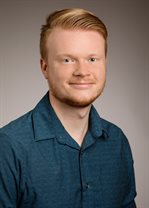 JAKE SPINNATO
Undergraduate Academic Advisor
1240B Everitt Laboratory, M/C-278
1406 W. Green St.
Urbana, IL 61801
Have a question? Don't hesitate to reach out! We offer both virtual and in-person advising options.
Email: bioe-ugradprograms@illinois.edu
Phone: (217) 300-8066