Soft robotics in the classroom
One of the many benefits of studying at the Department of Bioengineering is the opportunity to participate in projects that extend outside the university. Bioengineering undergraduates Elizabeth McNeela and Thomas Tran, for example, recently worked with PI Professor Holly Golecki on an NSF-funded project to study high school students' perceptions of robotics and engineering, and published a paper in The Science Teacher on their findings.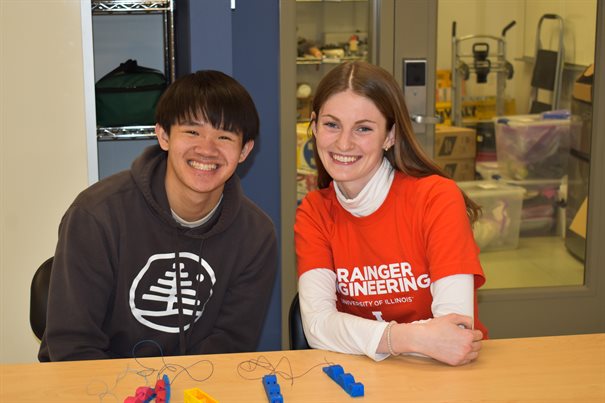 Their project gave high school students the opportunity to create simple, yet practical robots out of nylon and silicone right at their desks. McNeela and Tran also surveyed students on their perceptions of engineering before and after their engineering implementation to determine whether the curriculum and the hands-on experiment changed students' perceptions of what it meant to be an engineer.
"Before our project, we asked the students what they thought of engineering, and they mentioned things like having a brother who was a mechanic," McNeela said. "That's what they thought engineering was, and a lot of them weren't very interested in that. After the project was over we were able to tell them 'well, you did engineering by building this silicone actuator.' It definitely broadened their perspective of what engineering can be."
Along with giving students an increased understanding of the many facets of engineering, the project had another valuable aspect: It was fun.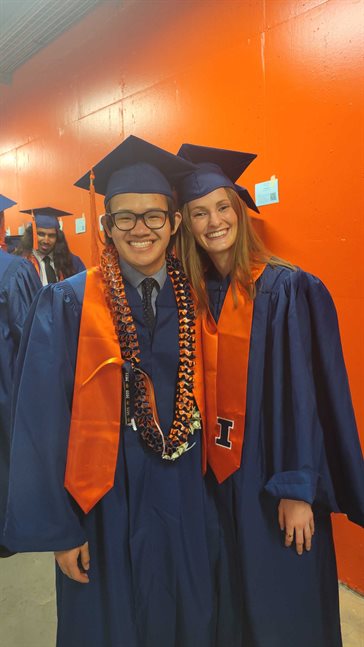 "One student liked the project so much that she was taking videos of it and posting on TikTok. And when the high schoolers are posting your stuff on TikTok, that's when you know, yeah. We did it." Tran said. "It was just really cool to see them light up when they got to learn something new, and to be the ones who gave them that impression of engineering."
The results of the study were promising. While many of the students began the class with a very rigid definition of engineering, by the end of the program they were able to describe how engineering was important in many different areas of study, and they were able to do so with the engineering vocabulary they had learned. Most students started the program not knowing what soft robotics were—but none of them left that way.
It wasn't only the high school students who took something away from this project. McNeela and Tran both outlined new skills they had learned, including how to effectively work with kids and others outside the engineering community, the practical aspects of community outreach, and more.
Now that they've developed instructions, a curriculum, and easy-to-assemble project kits, McNeela and Tran are hopeful that this project will continue the important work of bringing engineering into classrooms.
"There are tons of smart students out there who could have such positive impacts on the world if they were just given the tools or the resources," said Tran. "And I think engineering is one of those fields where you can really make an impact—you could build something that will change the world."
"What Thomas and I were able to do is bring engineering into more of a welcoming space," said McNeela "And I feel like that's really critical to give all these students a chance to understand the field, even if that's not what they thought they were going to go into. Our goal was to make engineering more accessible. And I feel like we did a good job."
The published paper in The Science Teacher can be read here.