Bioengineering grad students Maha Alafeef, Colin Lim and Jongwon Lim had the opportunity to learn from Nobel-winning scientists, Fields Medal recipients, Millennium Technology prize winners and more at the Global Young Scientists Summit.
Not many people have the chance to meet their role models or the people at the head of their field. It's just one reason why the 2023 Global Young Scientists Summit (GYSS) was such an exciting prospect—students who attended the summit were able to meet and interact with Nobel-winning scientists, Fields Medal recipients, Millennium Technology prize winners and more.
Bioengineering grad students Maha Alafeef, Colin Lim and Jongwon Lim seized the opportunity to attend GYSS.
"It was really an awesome experience," said Maha. "I had the privilege to meet with a couple of Nobel Prize winners and had the opportunity to present my work to them. There were students and scientists there from all over the world, all getting excited about our methods and our science together."
The conference, which featured small group sessions, poster presentations, lectures and more, took place in Singapore. The location was particularly meaningful for Colin.
"I grew up in Malaysia, so attending this conference gave me the chance to connect with scientists close to home," he said. "Where I grew up, there wasn't a lot of opportunity to do science. Now it's come full circle, which is very cool."
While GYSS created opportunities for Colin to develop connections close to home, he and his fellow students also had the chance to network with people around the world, from students to Nobel Laureates.
"I was fortunate to learn from Sir David Klenerman, who won the Millennium Technology Prize, the significance of a resilient mindset in the pursuit of impactful research," Jongwon said. "I also asked him how he was able to form collaborations with such great people, and he answered that the best way is to simply ask. He mentioned that it's kind of like a social experiment, where you ask a lot of people just to see what the results are. Afterwards, I actually did the same thing to him: I emailed him and asked him to become my mentor. He responded and said yes."
Jongwon and Maha also had the opportunity to share their poster presentations in front of the prestigious GYSS audience. Maha's work was titled "Developing a universal biosensing platform for molecular diagnosis of emerging pathogens: from probe selection to clinical studies," while Jongwon presented "Next generation portable diagnostics for respiratory viruses: toward sustainable global pandemic preparedness." Interacting with these scientists as they discussed their presentations revealed some commonalities, even between experts in very different fields.
"They were so humble," Maha said. "Everyone we met is such a big scientist in their field but at the same time, when you interact with them you feel like they are all just normal people. These scientists were talking to everyone, discussing, and stopping by our poster presentations to ask questions. I really love that being a scientist does not keep you apart from the people around you. As a scientist you have the power to inspire the members of your community and be a part of them, and at the same time do great work."
The official goals of GYSS are to excite, engage, and enable young and upcoming scientists across multiple fields, thereby inspiring another generation of scientists to continue their work. Seeing real-life examples of what can be achieved in the world of science was a particular source of inspiration.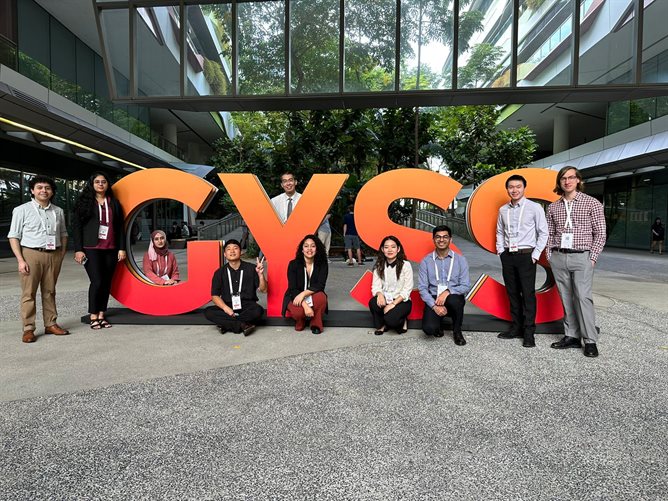 "You cannot do things if you don't know they are achievable," said Jongwon. "But when you see what's possible—what other scientists have achieved—you can have some confidence. And that confidence level goes even higher if you can personally meet them and ask them questions, as it provides insights into how they achieved success."
Another theme of the summit was perseverance. From scientists who struggled for years without any concrete results to scientists who saw their labs burn down, all of the brilliant minds at the summit had experienced challenges that they had to overcome. It's an idea that resonates.
"My takeaway was that if you have a crazy idea, go for it," said Colin. "Do it. Be persistent. Each Nobel Laureate talked about how they failed, failed, failed, and then finally something worked. Some crazy ideas are not so crazy after all."
All three students expressed their appreciation to the Graduate College and Dr. Vickery for making the trip possible, as well as the ongoing support they have received from their advisors and families.