Orientation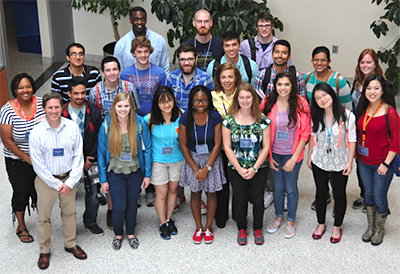 Students in the 2015 Discoveries in Bioimaging REU at the University of Illinois at Urbana-Champaign gather for a photo before orientation. Pictured also are: U of I student mentors and the U of I Bioengineering faculty: Stephen Boppart, Abel Bliss Professor, (front row, far left); Andrew Smith, assistant professor, (back row, far right); and Marina Marjanovic, teaching associate professor and REU program coordinator, (second row, center, in yellow).
Working in the lab
From left to right: Amirreza Saharkhiz, Susan Ojo, Maura Slattery, Casey Troccoli, Christian Konopka (graduate mentor), and Tracy Ling working in Prof. Wawrzyniec Dobrucki's lab at the Beckman Institute.
Presenting their work at Illinois Summer Research Symposium
REU participants Susan Ojo and YikTung (Tracy) Ling received awards for the Outstanding Poster (Susan) and Outstanding Oral (Tracy) Presentations at the Illinois Summer Research Symposium.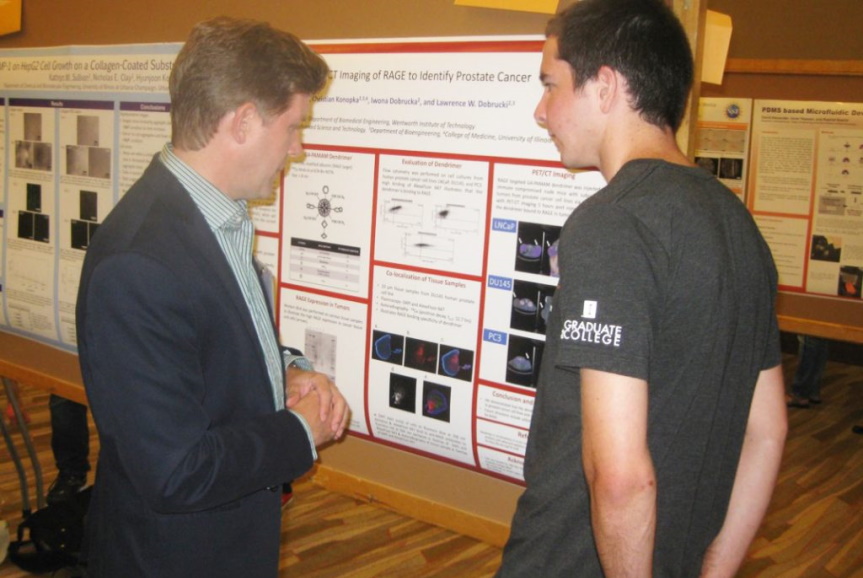 REU student Craig Mizzoni explains his research to Bioengineering Professor and REU PI Stephen Boppart.
Susan Ojo (left) discusses her research at the campus Illinois Summer Research Symposium.
Presenting at BMES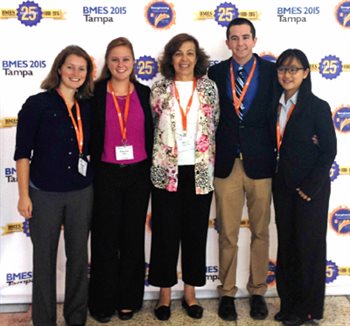 A group of REU students, accompanied by Prof. Marina Marjanovic (pictured here in the center), participated in the Biomedical Engineering Society (BMES) annual meeting in Tampa, Fla., October 7-10, 2015
National Presentation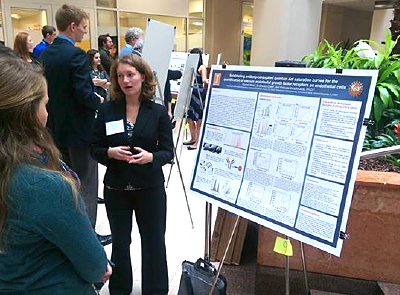 Rachel White, 2015 Discoveries in Bioimaging REU participant, was selected to present her research at the Research Experiences for Undergraduates Symposium, October 25-26, 2015, in Arlington, Va. The symposium was organized by the Council on Undergraduate Research, a U.S. non-profit organization that supports and promotes undergraduate research. The Council includes more than 900 member institutions of higher education. White was mentored during the 2015 REU at Illinois by Bioengineering Assistant Professor Princess Imoukhuede.