Bioengineering senior Genevieve Kerns shares internship experience with OSF at the Jump Simulation Center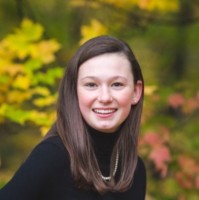 Genevieve Kerns, a bioengineering senior specifically on the biomechanics track, was an intern over the summer at the Jump Simulation center located in Peoria, Illinois. The JumpSim internship is a university program spanning over 16 weeks that offers students a variety of different departments to work with. During her internship, Kerns worked on a project to build a Pulmonary Acoustic Sensor Telemetry Array, also known as PASTA. This project is part of a formal partnership between The University of Illinois Urbana-Champaign, OSF Healthcare, and Caterpillar to develop a smarter and more powerful way of understanding a child's lung function while they are in the hospital – without the need for invasive procedures or radiation.
Kerns said that the idea originated from Dr. Adam Cross, a pediatric hospitalist and clinical informaticist, who identified the need for comprehensive pulmonary monitoring and accurate respiratory disease diagnosis. To address this gap, Cross created the PASTA device that has eight sensors, placed in distinct locations (based off of the lung fields) on the torso of the patient and would continuously monitor and collect audio recordings of lung sounds.
"It is very difficult to accurately diagnose pathological lung sounds through pulmonary auscultation and imaging can expose patients (particularly children) to high amounts of radiation," said Kerns. The purpose of the PASTA device is to allow clinicians to listen to respiratory recordings in a controlled setting to improve diagnostic accuracy. It also has the capability to identify pathological lung sounds based on frequency. Kerns, who was responsible for helping create a prototype, worked in the engineering lab with several other interns in the JumpSim program. She also was able to interact with many professionals with different backgrounds from nurses to intellectual property specialists.
"Professor Jenny Amos introduced me to the internship program at JumpSim. From a young age, I have aspired to become an engineer who works at the interface of medicine and engineering to help improve patient care and quality of life" said Kerns. Professor Amos served as a mentor for Kerns along with professor Rebecca Reck. Kerns said that the bioengineering professors were able to share their electrical and clinical expertise and experience throughout this internship while also working through the troubleshooting process with her. For example, the professors were able to help her determine the most appropriate form factor for the sensor and attachment methods for the PASTA device.
Kerns described her time at the JumpSim headquarters in Peoria as an incredible experience. She was able to work in the lab interacting with different materials and exploring possibilities for product development. What she found to be the most inspiring was the connection to the hospital and seeing previous projects being used throughout the healthcare facilities. Kerns was also able to work in the simulation hospital to test the PASTA prototype and see the impact of Jump's work firsthand. Although the PASTA device is still in prototyping stages, the next step will be to make it applicable in the medical field through rigorous clinical testing.
"My internship with JumpSim has confirmed my passion for working at the interface of medicine and technology" said Kerns. She also mentioned that this internship has given her the opportunity to have exposure to early prototype development and idea generation, as well as helped her gain experience in coding, circuit design, and audio processing. Kerns will continue to work on this project throughout this semester as a part of the capstone course with a team of undergraduate and graduate students in bioengineering.