2018 REU highlights
Orientation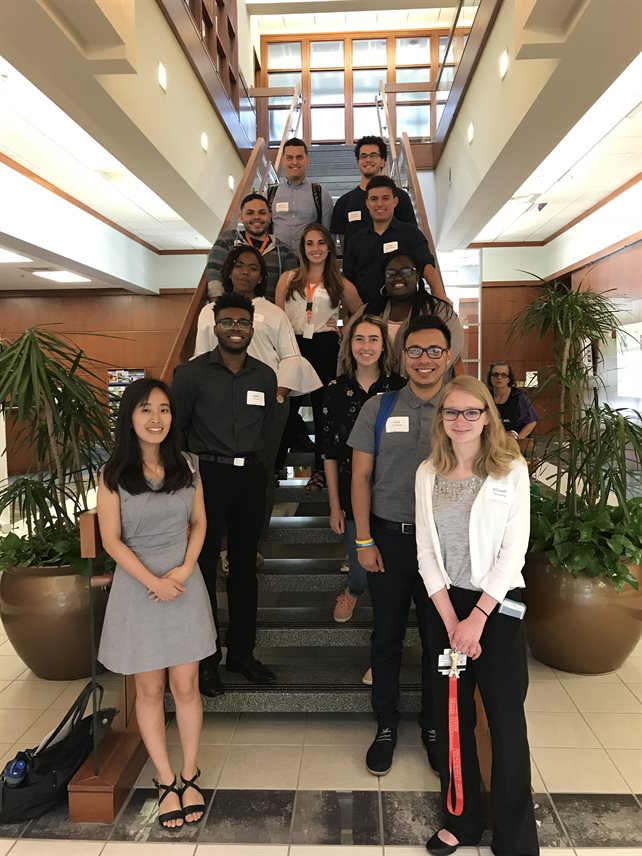 REU students pictured here participated in the 10-week 2018 Frontiers in Biomedical Imaging program. They are (clockwise starting at bottom left) Jenny Won (graduate student mentor), Jalen Thomas, Janee Philips, Bethany Perez, Christian Figueroa-Espada, Merwin Berrocales Riviera, Gabriel Evatt-Macagdo, Juan Munoz Montes, Darnella Cole, Allison McMinn, Luis Contreras, and Allison Spaulding.
Presenting their work at Illinois Summer Research Symposium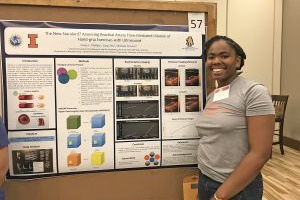 Janee Philllips from North Carolina A&T State University worked with Bioengineering Professor Mike Insana's group on a project that used ultrasound to assess the brachial artery flow-mediated dilation of hand-grip exercises. She presented her research results at the annual Illinois Summer Research Symposium on campus.
Merwin Berrocales Rivera from the University of Puerto Rico at Mayaguez worked with Bioengineering Professor Dipanjan Pan's group on a project that profiled prostate cancer biomarkers with multicolor carbon dots. He presented her research results at the annual Illinois Summer Research Symposium on campus.
Touring exceptional Illinois facilities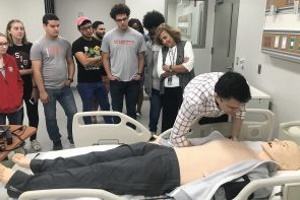 In addition to working on research projects, the REU interns participated in other group activities, including tours of the exceptional training and research facilities on the Illinois campus. Here participants learn how Carle Illinois medical students use the Jump Simulation Center in their medical school training.
Presenting their work at the Biomedical Engineering Society annual meeting
All the 2018 REU students were selected to present their research at the BMES annual meeting in Atlanta in October. Above, Bethany Perez from Louisiana Tech University worked with Professors Pablo Perez-Pinera and Andrew Smith's groups on imaging the signaling pathways in living cells.
Above, Madison Wilson from the University of Illinois used optical imaging techniques to analyze metabolic interactions between neurons and glial cells. Wilson worked win Professor Stephen Boppart's research group.