Discoveries in Bioimaging REU 2017
Quick recap of the 2017 REU program
Orientation
The 2017 REU students: (Front row) Brittani Carroll, Carolyna Quiles, Prerana Jaikumar, Silvia Alvarez, Janet Sorrells. (Middle row) Javier DeJesus Astacio, Kyle Poe, Amanda Craine, Janee Phillips, Joanne Li (graduate mentor), Than Huynh. (Back row) Illinois faculty members: Steve Boppart, Andrew Smith, and Marina Marjanovic.
Working in the lab
Carolyna Quiles works in Prof. Rohit Bhargava's lab.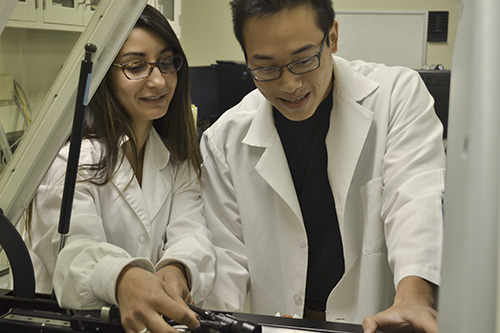 Than Huynh works with Jamila Hedhli (graduate mentor) in Prof. Wawrzyniec Dobrucki's lab.
Presenting their work at Illinois Summer Research Symposium
REU student Janet Sorrells worked with graduate mentors Joanne Li and Andrew Bower in Prof. Stephen Boppart's lab.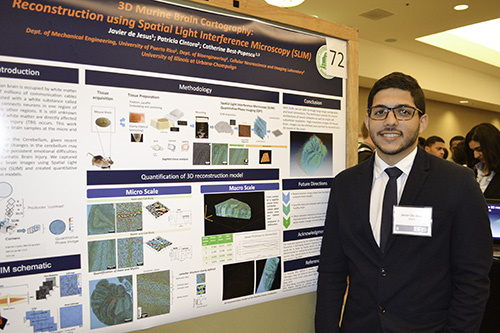 Javier DeJesus Astacio conducted research with Prof. Catherine Best's lab in the Micro + Nanotechnology Lab.
Travel to BMES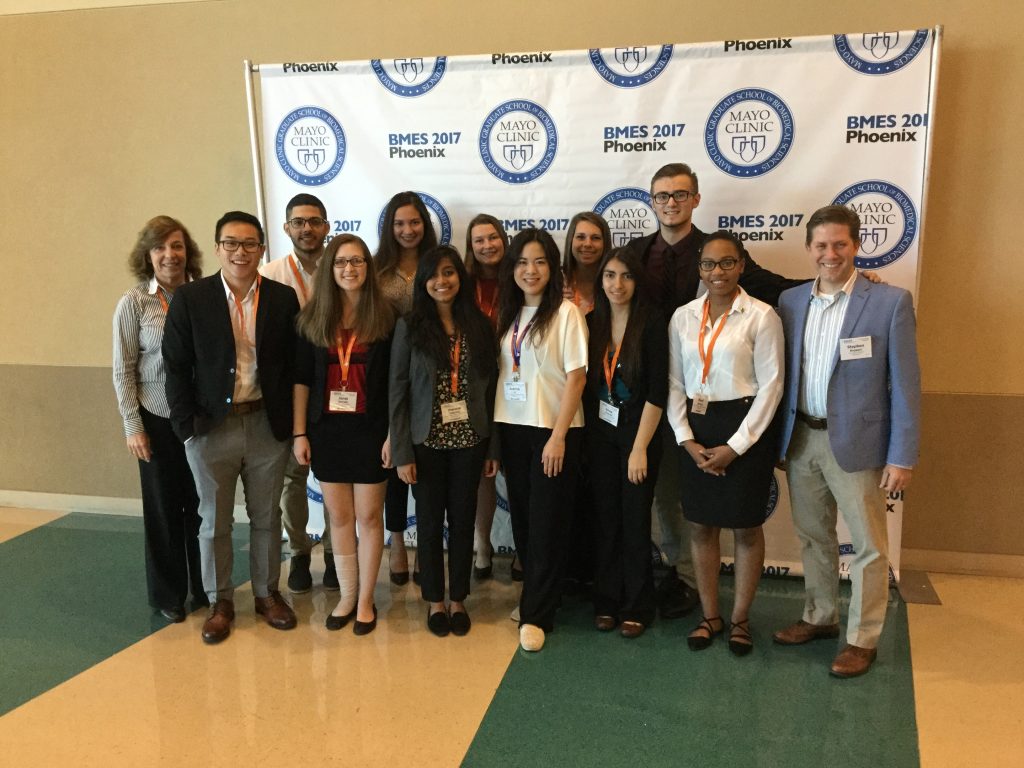 Nine REU students were selected to present their research.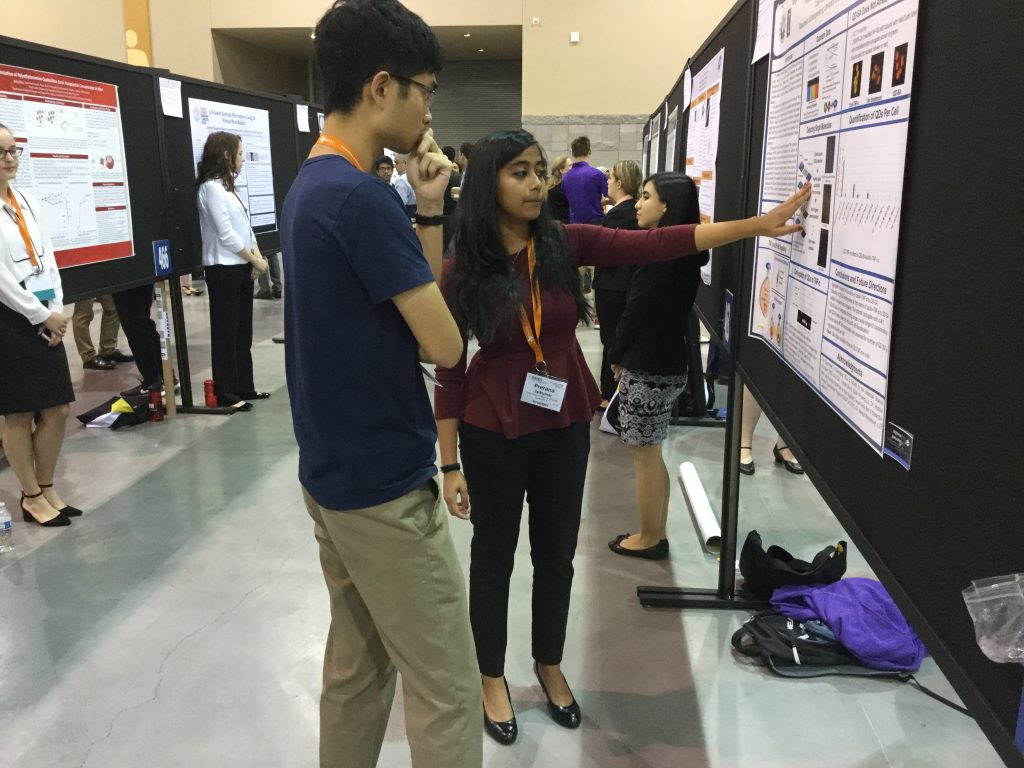 Prerana Jaikumar presents her poster at BMES.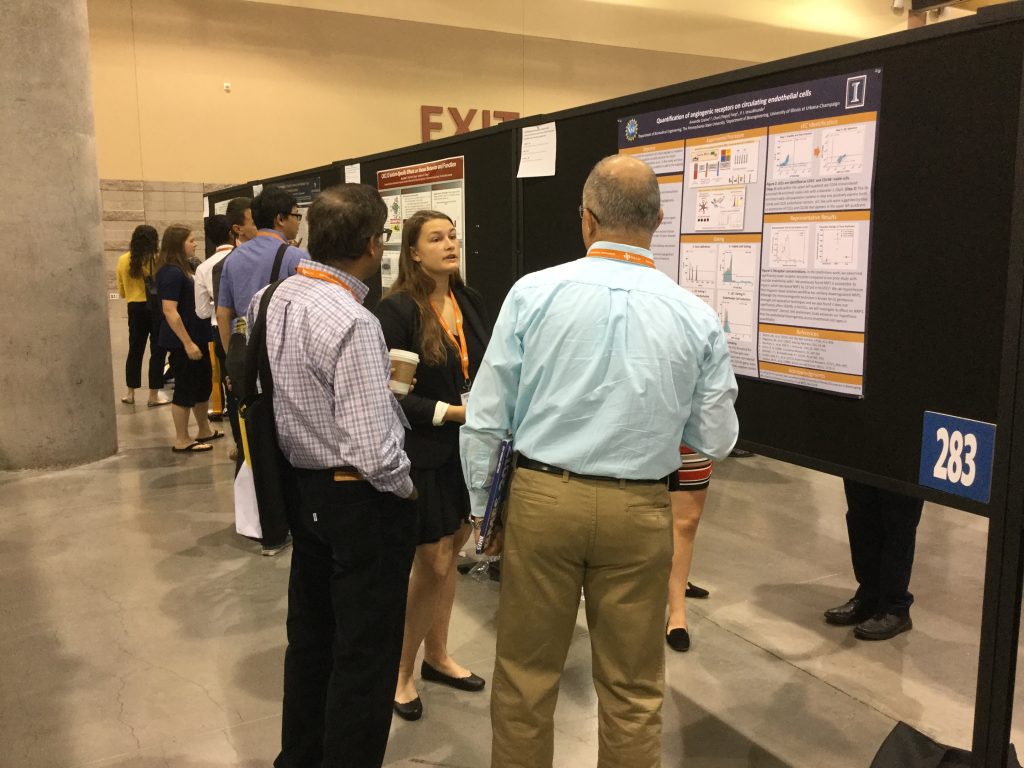 Amanda Craine discusses her research results at BMES.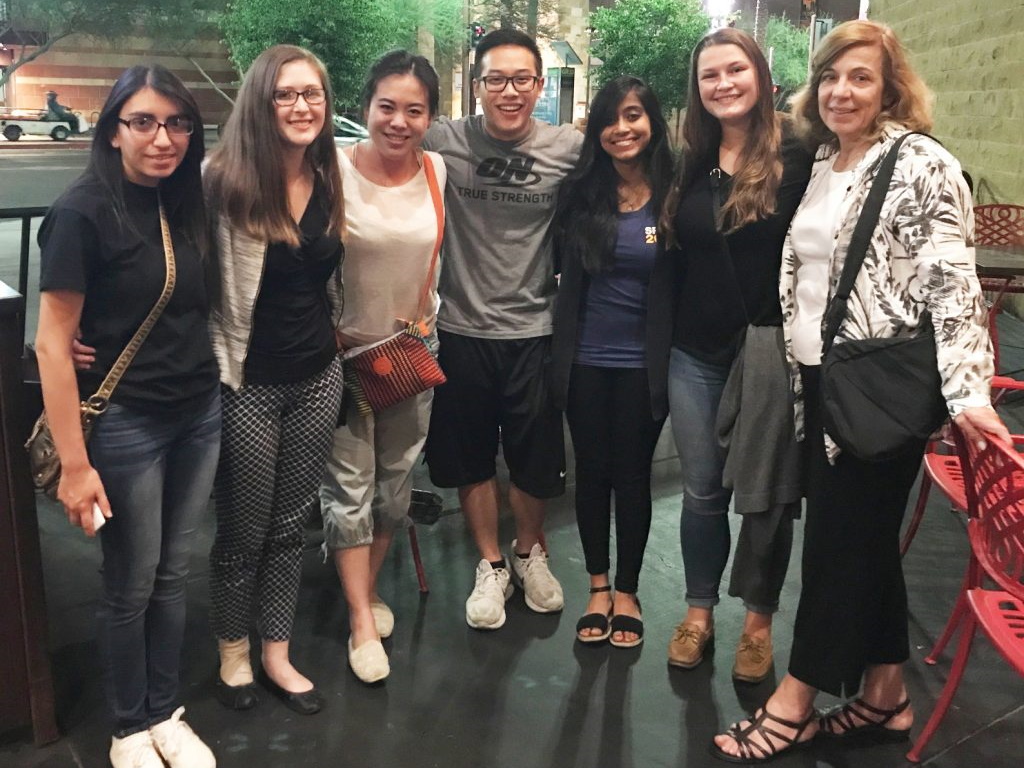 We had a great time in Phoenix.
National Presentation
Prerana's experience at the Symposium
"I really loved the CUR Conference; it was very encouraging and supportive of our future endeavors as young leaders in STEM. As someone who still felt a little unsure of where exactly I wanted to go with my future, going to this conference was really eye-opening: I met so many individuals who were passionate about their respective fields, and this inspired me to introspect and figure out what I really wanted to do with my career. For example, we had an ice-breaking networking activity with all conference attendees (students as well as faculty) – winners of this activity were awarded with the opportunity to give an impromptu speech to the entire congregation about their research and future plans. I was so inspired by the ability of my peers to speak so eloquently and with such confidence. I also appreciated the seminars held to educate us about the NSF Graduate Research Fellowship Program, where we could take advantage of the opportunity to actually speak with the NSF officials responsible for the program. All in all, this was a wonderful experience, and I would definitely recommend it for future participants!"