Sam Smucker
2/18/2009 8:00:00 AM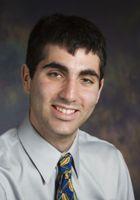 Luke Edelman, senior in Bioengineering, has won a Gates-Cambridge Scholarship for graduate study at Cambridge University in England. Funded by a gift of the Bill and Melinda Gates Foundation, the Gates-Cambridge Scholarship covers all tuition and fees at Cambridge University, a maintenance allowance of £12,250 per year and travel expenses. Only 40 scholarships are awarded to U.S. students every year.
Scholarships are awarded on the basis of the student's intellectual ability, leadership capacity and desire to use their knowledge to contribute to society by providing service to their communities and applying their talents and knowledge to improve the lives of others. Cambridge University is one of the leading research institutions in the world.
As a graduate student at Cambridge, Luke hopes to investigate ways in which non-coding RNA molecules might be used to treat or reverse human diseases.
"I feel really honored to have this unique opportunity, and am tremendously grateful to everybody at the University of Illinois who offered guidance and enthusiasm during my time on this campus," said Mr. Edelman.