Heather Coit
2/3/2020 12:26:39 PM
When recent Bioengineering graduates Viraat Goel BS '19 BIOE and Erin Tevonian BS '19 BIOE finished biking cross-country last summer to raise money and awareness for cancer research, their Illini 4000 Bike America Team had much to celebrate. The team raised $78,000 and donated $64,000 to beneficiaries like the Cancer Center at Illinois, Camp Kesem, and the Prairie Dragon Paddlers.

For Goel and Tevonian, the journey was also a way to take their cancer research out of the classroom and into the real world.

"Illini 4000 enabled me to humanize the stories at the core of the disease, and I hoped the experience would serve as a motivational backdrop, fueling my work as I headed to either med school or grad school," Goel said. "Moreover, I recognized the ride was a once-in-a-lifetime opportunity to give back to affected communities, challenge myself to get outside my comfort zone, and see the country in a way I could never appreciate from a car."

"Since I began reading about the history of cancer back in high school, I knew that I wanted to make a career researching the disease," Tevonian said. "However, in research it's easy to get caught up in the day-to-day science and forget about the people who are impacted at the end of the day. I rode to learn the stories of those who have been affected by cancer across the country and show my support for them."
While Goel and Tevonian both pursue their doctorate degrees at MIT this year, the new team is already preparing for the Summer 2020 ride and have so far raised more than $48,000. The goal is to reach $125,000.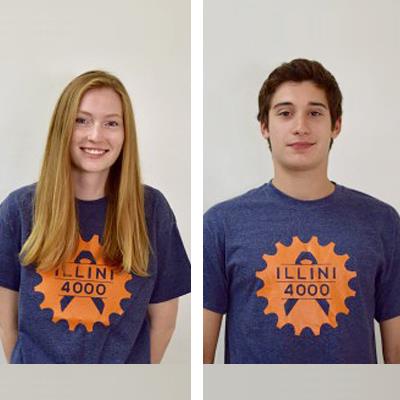 Claire Niewiara and Jacob Minin, both Bioengineering students, are among the current 21-member team training for this year's route, which begins in New York City on May 22 and ends in San Francisco on August 8. The team meets twice a week for workouts that include cardiovascular endurance, calisthenics and core stability. After spring break, the team will bike together weekly as they build from 30 miles to 70 miles of daily cycling, according to Minin.

Both students have been deeply affected by cancer. Niewiara, a senior from Elmhurst, Ill., lost her grandfather to brain cancer, while Minin, a freshman from Lincolnshire, Ill., has several relatives who have been confronted by the disease.

"I am riding for my great-grandmother, who passed away from cancer in early 2019," Minin said, who is a member of the Cancer Scholars Program. "Despite cancer's ubiquity, there are many people who view cancer as a fact of life. While we may never cure the disease, raising awareness by doing a ride like this one is an essential step in the process of instigating change."

Niewiara, a fellow Cancer Scholar, also believes in taking an active approach to tackling the disease.

"Biking across the country is an enormous physical undertaking, but it pales in comparison to the journey undertaken by anyone battling cancer," Niewiara said. "While I'm excited to take on this challenge, it is the strength and courage of survivors that are truly inspiring; and I hope that our team can give back a little to those we meet along our journey this summer — whether it be a shoulder to cry on or someone to share a laugh with, or anything in between."

Want to support the Illini 4000? You can register to run in the April 19, 2020, 5K for Cancer or make a donation to Illini 4000.