Beckman Communications Office
3/29/2018 9:45:51 AM
Bioengineering graduate student Jamila Hedhli, a member of Assistant Professor Wawrzyniec Dobrucki's lab, has been named the 2018 Beckman-Brown Interdisciplinary Postdoctoral Fellow. Hedhli will receive her PhD in May.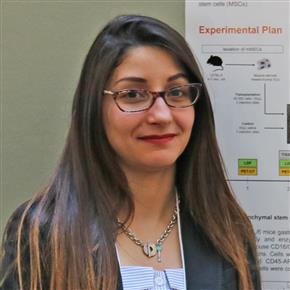 As a Beckman-Brown post-doctoral fellow, she plans to develop gas-filled "smart bubbles" for ultrasound imaging of ovarian cancer with the ultimate goal of transforming the biomedical imaging landscape through the development of ultrasound probes, which will enable medical practitioners to use ultrasound to accurately diagnose diseases. Hedhli plans to work with Jeff Chan, an assistant professor of chemistry; King Li, the dean of the Carle Illinois College of Medicine; Michael Oelze, a professor of electrical and computer engineering; and Dobrucki.
Hedhli is currently one of nine Illinois graduate students supported by a highly competitive National Institutes of Health T32 training grant—Tissue Microenvironment (TiMe). During the summer of 2016, she conducted diabetes research at the Massachusetts General Hospital. She is also a finalist for the Jay D. Coffman Early Career Investigator Award, which is sponsored by the Council on Peripheral Vascular Disease.
The Beckman–Brown Interdisciplinary Postdoctoral Fellows Program was initiated in the fall of 2015, when the Arnold and Mabel Beckman Foundation provided an endowment in honor of Dr. and Mrs. Arnold Beckman and the founding director of the Beckman Institute for Advanced Science and Technology, Dr. Theodore "Ted" Brown.