Laura Schmitt
2/8/2018 12:51:57 PM
Dipanjan Pan has been selected to receive the 2018 College of Engineering Dean's Award for Excellence in Research for work conducted by an associate professor. Pan is known for developing translational nanomedicine technology that can be applied to cancer, metabolic disorders, and eye wounds and disease.
An expert in nanomaterials, Pan and his research group were the first to introduce the concept of luminescence switchable 'turn on' and 'turn off' carbon nanodots. Subsequently, they demonstrated the enhanced efficacy of a cocktail of agents delivered intracellularly from multi-compartment carbon dots. This work can help quickly identify appropriate dosing regimens for various cancers and diseases.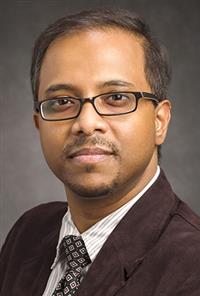 Pan also led a team that precisely measured how much drug was released from a nano-carrier at a given time point using hyperspectral imaging. This work is the first example of a one-step, facile procedure to synthesize pro-drug-passivated carbon dots. The result is significant and may eventually help increase the efficacy of drug therapies, while also helping scientists better understand what drives the cellular entry of nanoparticles and drug release.
More recently, his research group designed nanoparticles that can target cancer stem cells, which cause cancer to recur or spread. The nanoparticles specifically bind to a protein that marks the surface of breast cancer stem cells. Encapsulated in the particles is a drug commonly prescribed around the world to treat tapeworm infections; in cancer stem cells this drug turns off key gene pathways that enable them to grow and spread.
The holder of multiple patents, Pan is involved in several ongoing clinical trials, and is the founder of three university-based early-stage start-ups. One of those start-ups, InnSight Technology and Pan's academic lab have received $900,000 in National Science Foundation Small Business Innovation Research grants.
Pan co-founded InnSight Technology with Carle Ophthalmologist Leanne Labriola based on technology developed in his laboratories. The company is developing a handheld device that even non-specialists can use to quickly detect severe eye injuries quickly and objectively.
Innsight's novel OcuCheck sensor detects ascorbic acid, a chemical that is 20 times more concentrated inside the eye than on the tear film. This technology could be used to monitor post-corneal and post-cataract surgeries, and could be especially useful for post-operative management in remote areas or developing countries where access to an eye specialist is limited.
KaloCyte Inc., another one of Pan's start-up companies, develops next-generation synthetic blood. Pan's academic lab and this company partnered together to receive $5 million in funding from the Department of Defense and the National Heart, Lung, and Blood Institute at the National Institutes of Health. Earlier in 2013, Pan and Washington University hematologist Allan Doctor received $1 million from Children's Discovery Institute to develop this breakthrough technology.
Pan is the founder and CEO of a third startup, VitruVian Biotech, which is developing innovative diagnostic tests and therapeutics for central nervous system disorders, oncology, and metabolic disease.
In addition to his research and entrepreneurial activities, Pan is the director of the department's Master of Engineering (M.Eng.) in Bioengineering professional degree program. Under his leadership, the program has nearly tripled its student enrollment since it was launched three years ago.
An Illinois Bioengineering faculty member since 2013, Pan is a recipient of the 2016 Nano-Micro Letter (NML) Researcher award and is an elected fellow of the Royal Society of Chemistry, American College of Cardiology, and the American Heart Association. In 2017, Pan was one of 11 young researchers worldwide to receive the Young Innovators of Cellular and Molecular Bioengineering (CMBE) award presented at the annual Biomedical Engineering Society annual meeting.
In additioin to Pan, two bioengineering graduate program faculty members will receive the COE research award—Chemical & Biomolecular Engineering Associate Professor Brendan Harley and Mechanical Science & Engineering Associate Professor Amy Wagoner Johnson—which will be presented at the College of Engineering's award ceremony on April 23, 2018.