Susan McKenna
9/15/2014 11:10:00 AM
Six Bioengineering undergraduates from the University of Illinois at Urbana-Champaign won First Place in the 2014 Coulter College competition, a nationwide contest to connect young innovators, bioengineering faculty, and clinical collaborators to develop translational solutions to clinical issues.
Illinois' winning team developed a device to detangle intravenous tubing and help prevent misconnections. The group includes seniors Amelia Johnson, Asha Kirchhoff, Mallika Modak, Stephanie Slania, Divya Tankasala, and Ravi Chandra Yada. They traveled to Coral Gables, Fla. in mid-August to compete against 18 other teams from U.S. universities and earned a cash award for their First Place effort. After the competition, the aspiring Bioengineers created a funding proposal to advance their goal of patenting and commercializing the technology they developed.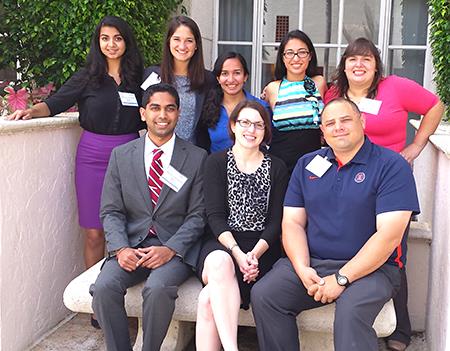 Faculty sponsor Jenny Amos of the Department of Bioengineering at Illinois led the team. She is director of undergraduate programs, a senior lecturer and instructor of the senior design course in which the six students are enrolled. Dr. John Vozenilek, Chief Medical Officer, Jump Trading Simulation & Education Center, Peoria, Ill., participated as the clinical collaborator required by the competition. He consulted with the students, answered their questions, and helped identify clinical needs they could address during the event.
"There are wonderful ideas to be had when you combine clinicians and engineers – winning ideas that have the potential to save lives," Vozenilek said.
Coulter College is a three-day training program supported by the Wallace H. Coulter Foundation and developed in conjunction with the Biomedical Engineering Society. It is "designed to help (student design teams) better understand how innovations can meet clinical needs, while providing tools and approaches used to evolve identified problems into novel solutions," according to the Coulter website. The competition calls for a team of six students (who are seniors and have not previously competed) from the same university, their faculty sponsor, and a clinical collaborator.
For seven years, the "college" previously offered this training opportunity to faculty and researchers who were Early Career and Translational Research Award recipients of the Coulter Foundation. According to the Coulter website, "The curriculum provided participants with the tools required to accelerate the translation of biomedical innovations to the market place to improve patient care."
In 2012, the competition evolved to include a student division. Participating students receive a travel stipend and lodging during the event, and they are allowed to register for the BMES annual meeting at a significant discount.
MORE ON COULTER COLLEGE AND WALLACE H. COULTER:
bmes.org/coulter