3/14/2011 8:00:00 AM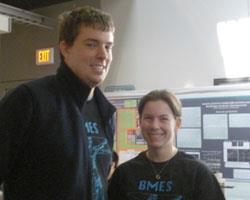 BMES has had award winning displays in EOH since the inception of BIOE at UIUC. This year we continue the tradition by placing 1st in a display of Independent Study Projects, 2nd place for the EOH theme: Defining the Future, which was won by the Brain Computer Interface group and 3rd place in senior projects.
Recognition belongs to
Alex Kreig, BMES President
Gene Yu, BMES EOH Director
Brain Computer Interface Team: Matt Wesly (head), Dave Carney, Isaac Dupree, Pavan Gupta and Alex Loiben
Senior design teams
Bhargavists: Rohun Palekar, Alex Kreig, Nathan Gerby and Yousuf Ahmed
Visionaries: Caroline Cvetvic, Meghan McCleary, Emily Pajerski and Katrina Keller.
Independent Study students
Dr Amos: Steve Bartels and Andrew Lee
Prof Bhargava: Rohun Palekar
Thanks to all who volunteered and represented Bioengineering!