4/14/2010 8:00:00 AM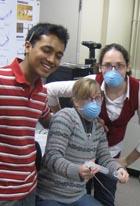 The Bioengineering undergraduate organization,
BMES
, won first prize for Best Presentation of a Society at this year's College of Engineering
Engineering Open House
. The BMES presentation consisted of five functioning exhibits including an emergency diagnostic device, an electrooculogram for use in aviation control, and software that displays genomic pathways in a variety of organisms. Additionally, there was a genetic engineering display constructed with demonstration E.coli transfection, genomic pathway software, and a microscope displaying mice stem cells. The final exhibit was the Peerless Probe, a pre-biospsy tumor-detection needle, a created by bioengineering senior design team Heather August, Michelle Hattan, and Pratik Randeria.
For more information, please visit: http://bioengineering.illinois.edu/sites/default/files/images/news/BMES_...