Bioinstrumentation Curriculum - Online
With special focus on medical imaging devices, the bioinstrumentation curriculum trains students to be industry leaders by combining rigorous graduate-level engineering coursework with fundamental business training on issues that confront professionals who develop products for biomedical imaging, medical diagnostics, genomics, and tools used in life science research.
Course requirements
Students enrolled in the M.Eng. online program under the bioinstrumentation concentration are required to take the following core and elective classes:
BIOE M.Eng. Contacts
LIEZL BOWMAN
Assistant Director
1240G Everitt Laboratory, M/C-278
1406 W. Green St.
Urbana, IL 61801
Email: liezlb@illinois.edu
Phone: (217) 333-8163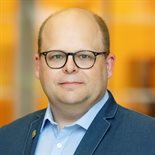 PROF. WAWRZYNIEC DOBRUCKI
Faculty Program Director
4261 Beckman Institute, M/C 251
405 N. Mathews Ave.
Urbana, IL 61801
Email: dobrucki@illinois.edu
Phone: (217) 244-3938
Interested in our M.Eng. Programs? Connect with us to find out more.
Email: bioe-meng@illinois.edu
Phone: (217) 333-8163
1102 Everitt Laboratory, M/C 278
1406 W. Green St.
Urbana, IL 61801