General Bioengineering Curriculum - Online
The curriculum is designed to develop students with deeper understanding of general bioengineering concepts and more business acumen through coursework and a capstone project. The in-depth technical training combined with the core business classes required will develop well-rounded professionals entering the healthcare industry.
Course requirements
Students enrolled in the M.Eng. online program under the general bioengineering concentration are required to take the following core and elective classes:
BIOE M.Eng. Contacts
LIEZL BOWMAN
Assistant Director
1240E Everitt Laboratory, M/C-278
1406 W. Green St.
Urbana, IL 61801
Email: liezlb@illinois.edu
Phone: (217) 333-8163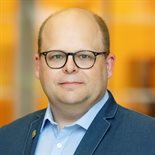 PROF. WAWRZYNIEC DOBRUCKI
Faculty Program Director
4261 Beckman Institute, M/C 251
405 N. Mathews Ave.
Urbana, IL 61801
Email: dobrucki@illinois.edu
Phone: (217) 244-3938
Interested in our M.Eng. Programs? Connect with us to find out more.
Email: bioe-meng@illinois.edu
Phone: (217) 333-8163
1102 Everitt Laboratory, M/C 278
1406 W. Green St.
Urbana, IL 61801